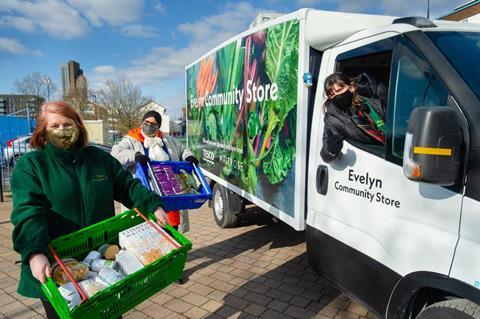 Tesco and Waitrose have joined forces to donate a van to help a community store in Lewisham deliver food to vulnerable families.
The supermarkets have made the donation as part of their ongoing efforts to help combat food poverty.
Tesco and Waitrose have come together to provide the ex-Tesco fleet van to the Evelyn Community Shop to help it deliver food parcels in and around Lewisham, south London.
The community shop was opened in partnership with food redistribution charity FareShare last year to help reduce food poverty in the area.
Members pay £3.50 a week for around £25 worth of grocery staples donated by FareShare.
The van has been stocked with Tesco and Waitrose food and non-food products to deliver to members.
It was re-sprayed and re-skinned at Waitrose's depot in Bracknell, Berkshire and now features Tesco and Waitrose branding.
Waitrose will also provide training for the volunteer drivers of the van, as well as cover its insurance and maintenance costs.
The donation comes as part of both supermarkets' partnerships with FareShare.