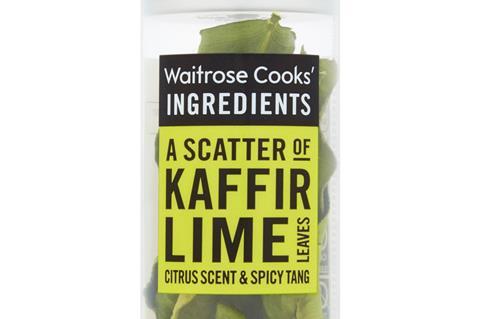 Waitrose has decided to change the name of its own-label lime leaves product after customers expressed concerns over the term being used as a racial slur.
The retailer said it was changing the name of its Cooks' Ingredients Kaffir Lime Leaves to Makrut Lime Leaves in response to customer feedback.
While the original name of the product is widely used across the industry, the term has historically been used as a racial slur in South Africa.
"This name change is a crucial step in recognising how important it is for us to listen to customers and educate ourselves when it comes to the language we use," said Waitrose grocery trading manager Helena Dennis.
"While some of our customers may be unaware of the connotations of this particular word, it's important to us that we avoid offending anyone who shops with us."
The word was commonly used during apartheid as an anti-black insult and is considered a highly offensive term in South African English.
As an extremely charged racial slur in the country, it has been sufficient ground for legal action in the past. In 2018, a woman was sent to jail after using the term to lash out at a black police offer.
"It is changes like this that ensure we are moving forward. We need industry-wide support on this, and encourage other retailers to do the same in order to make a difference on a widespread, national scale," Dennis added.
The dried lime leaves are a popular ingredient in south east Asian cuisine and often referred to as makrut, as it is most popularly known in countries like Thailand.
The original name is seen widely in gastronomy literature and cookbooks. Waitrose also pledged to explain the change in name via its recipe cards, on-shelf labelling and in its Cookery Schools. It will be rolling out the new label to all shops and online by early 2022.
The supermarket chain's move follows the announcement of a new John Lewis Inclusion Committee, which will be launched in the summer. According to the company, the committee will feature external advisers "who have strong diversity and inclusion experience", as well as its own employees.
"The committee will help accelerate and scrutinise the delivery of our plans to be a more inclusive business that welcomes and celebrates diversity," Waitrose's parent company said in a recent statement.