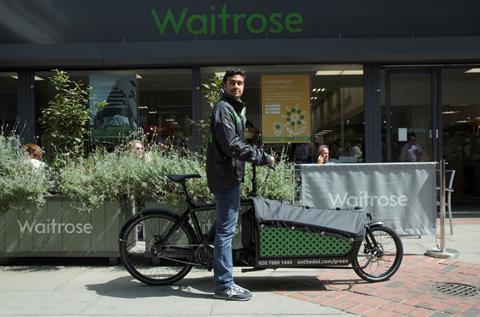 Waitrose has ended its two-hour grocery delivery service Rapid following an expansion of its partnership with Deliveroo.
The Rapid service and Waitrose's Deliveroo tie-up were "operating in the same market with lots of overlap", a spokesman said, "so we've decided to stop Rapid and focus solely on our Deliveroo partnership".
The Rapid service delivered baskets of up to 25 items in less than 120 minutes, with a flat delivery fee of £5. It launched in September 2018, covering eight London postcode areas, and later extending to additional postcodes in the capital as well as Bath and Hove. Still more London postcodes were added in April last year, with the service growing capacity to fulfil up to 7,000 orders a week, picked from both stores and a distribution centre in Coulsdon.
Waitrose's partnership with Deliveroo – which was struck in September last year – has been expanding fast from an initial five stores. Last month the supermarket announced 110 additional shops across the country would come onto the Deliveroo platform by the end of summer, taking the total to around 150.
Through Deliveroo, Waitrose is "able to grow the service much faster than Rapid, to reach more customers in more areas" a spokesman said.
Areas that previously had the Rapid service are being prioritised in the rollout.
Waitrose said the ending of Rapid would not result in any job losses. It is also creating up to 400 new store roles to handle Deliveroo orders.