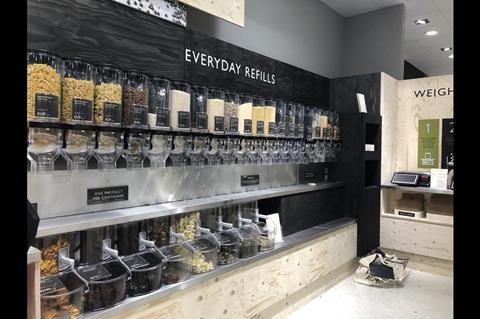 Waitrose has added to its 'Unpacked' refill range as it continues to test the concept at four stores.
The Grocer can reveal the supermarket has introduced 13 new lines to the selection.
They include own-label couscous, chickpeas, diced blueberries, pearl barley, red kidney beans and wholewheat penne pasta.
Waitrose has also added 'Rise Up' seasonal limited-edition chocolate stout and 0.5% lemongrass craft lager from Toast Ale to the range. The brewer creates craft drinks from surplus fresh bread.
The refill scheme involves dispensers for dried products, frozen items, coffee, cereals, lentils, dried fruit and seeds, as well as Ecover detergent and washing-up liquid. The new additions bring the Unpacked range to around 60 products, and have been added in response to customer feedback and sales.
Customers dispense the drinks into their own reusable bottles, while food items are placed into opaque paper bags. Shoppers can also borrow a box supplied by the store to take home and return on their next visit.
The project is available at Waitrose stores in Abingdon, Oxfordshire; Botley Road, Oxford; Cheltenham, Gloucestershire; and Wallingford, Berkshire. It started with a pilot in the summer of 2019 from the Botley Road store.
The concept is designed to test how customers might be prepared to shop differently in the future, with the aim of saving hundreds of tonnes of unnecessary plastic.
Waitrose told The Grocer it has "further plans" in the pipeline regarding the initiative, and expects to be in a position to announce them in quarter one of 2021.
"Reducing and reusing packaging is still important to our customers as it is to us, which is why we're adding these additional Unpacked products," said Karen Graley, packaging innovation and delivery manager at Waitrose.
"Lockdown has seen many of us cooking more, so we're sure these kitchen cupboard staples – like pearl barley and kidney beans – will be a welcome addition. Not only will they give a wider choice to our customers, but they will enable us to continue to learn and develop ideas in our Unpacked concept."