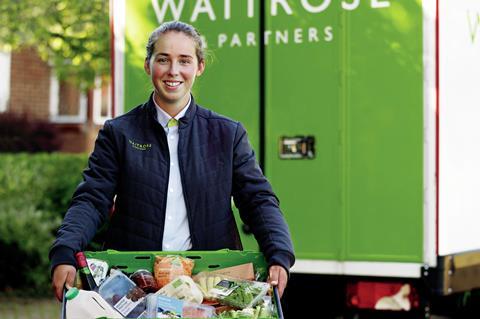 Waitrose has introduced a delivery charge for online groceries in certain areas. Previously the retailer had been one of only two supermarkets not to charge for delivery of large basket orders, along with Iceland.
The delivery fee was introduced quietly late last month as part of a "trial" at selected stores across the UK.
The aim of the trial was "to find a fair way of charging for grocery deliveries, reflecting the work that goes into picking, packing and delivering customer orders" a Waitrose spokesman told The Grocer.
Waitrose has seen massive growth of its online business through the pandemic and since its split with Ocado in September last year. The supermarket is aiming to soon offer 250,000 slots a week.
Online sales, which now account for 20% of Waitrose's trade – were "taking increasingly more of our shop partners' time to manage" a spokesman said.
"Waitrose.com is the only grocery retailer not to currently charge for our online deliveries, absorbing the cost into our shop operations. So a charge will not only bring us in line with the rest of the market but will also mean we can continue to offer the best levels of customer service," he added.
The trial had been planned to start at the same time the supermarket lowered its minimum basket size for free delivery from £60 to £40 last autumn, "but with more lockdowns expected we decided to wait until the roadmap to end lockdown was laid out" the spokesman said.
Supermarkets have long struggled to make money on online fulfilment, with 2020 Bain & Co analysis finding a typical in-store operating margin of 2% to 4% turned into negative figures – a loss as much as 15% – when delivering to customer homes. However, the cost of delivering online orders has halved during the pandemic for orders picked in store, according to research by Atrato Capital.
Waitrose does a mix of store-picking and picking from CFCs, such as its new site in Greenford, west London, which is due to deliver 25,000 Waitrose.com orders every week by the time it is fully operational later this year. Late last month, the supermarket announced it was creating up to 400 new store roles to handle Deliveroo orders following a significant expansion of its partnership with the delivery platform.
Over the past 12 months retailers have been cautiously changing their fee structure. Tesco introduced a flat £4.50 delivery charge last summer, Asda raised its delivery charge ceiling from £6 to £7, and Sainsbury's increased its cheapest one-hour slot charge from 50p to £2 while also lowering the maximum charge ceiling.
Last week, Waitrose's former partner Ocado was revealed to be offering lapsed customers free delivery slots, in the face of slowing growth of its market share.
Of the major grocery retailers, it is understood to now only be Iceland that still offers free delivery, on all orders over £35.