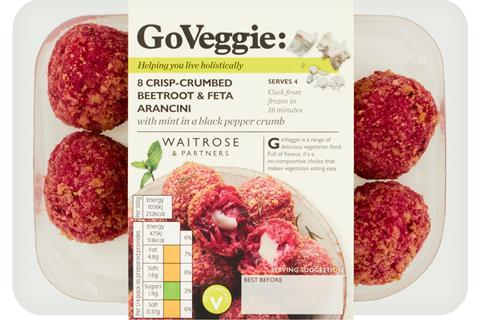 Waitrose has announced its largest-ever new vegan and vegetarian product launches.
The retailer is releasing two new own-label ranges, Plantlife and GoVeggie, which fall under the banner of the recently-launched Holistic Living brand.
The new ranges, which feature a total of 36 products, include main courses, burgers and sausages, snacks and desserts.
According to the supermarket, they were designed to "introduce shoppers to meat-free meals while keeping flavour front of mind".
"We wanted to provide our customers with more choice when it came to incorporating a holistic approach to their meals. Making 'meat-free Monday' or a flexitarian lifestyle even easier, these new ranges have inspired us to be more innovative," said Waitrose's executive chef Martyn Lee.
The Plantlife and GoVeggie ranges became available today (8 September) with plans for more products to arrive in October.
Those available now include Crispy No Beef with Sweet Chilli Sauce, Thai Style No Fish Cakes and Mushroom Scallop Linguine.
Prices range from £2 to £5.