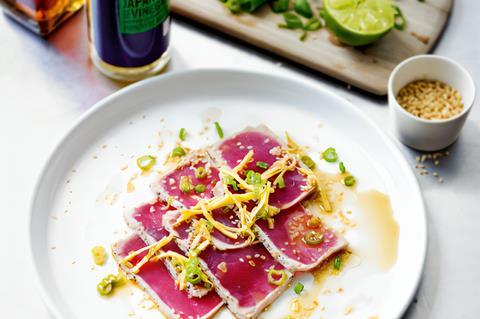 Waitrose said it registered a spike in popularity of Japanese-inspired cuisine as interest in the Olympic Games had customers turning to popular ingredients such as soy sauce and Roku gin.
Just days into the 2021 Tokyo Olympics, the retailer said sales of its Japanese range were up by nearly 10% this year up to July 14, compared to the same period last year.
Page views of sushi platters on Waitrose.com's Entertaining section had increased 36% month-on-month by July 14 compared to the previous four weeks as people looked for easy dishes to be shared among family and friends.
For the same period, online views of the category 'Easy Japanese Recipes' on Waitrose.com were up 72%, while recipes like Tuna Tataki Salad and Marinated Steak have seen a growth of 91% and 70% in page views respectively compared to the previous month..
Other recipes found under the category include Miso Maple Pork ramen and Prawn Katsu Sando.
Japanese gin brand Roku has also been popular among Waitrose's online customers, as the product's views increased 1,180% from the previous month.
Read more: Five Japanese-inspired drinks launching in time for the Tokyo Olympics
"It's great to see that people have been inspired to search out Japanese dishes. We've seen our customers become more adventurous in the kitchen over the course of the last year and Japanese food is a versatile cuisine that can easily be incorporated into a weekly meal plan, or a show-stopping dinner party," said executive chef in food innovation at Waitrose, Martyn Lee.
Brands and retailers alike have been taking advantage of the Olympic craze to attract sports fans this coming month – team GB sponsor Aldi launched a foot-long sushi roll to celebrate the start of the Games and introduced its own version of the traditional Japanese rice wine saké last week.
Meanwhile, Ramen restaurant chain Shoryu launched DIY cocktail kits to cater to customers that may be hosting Olympics viewing parties.