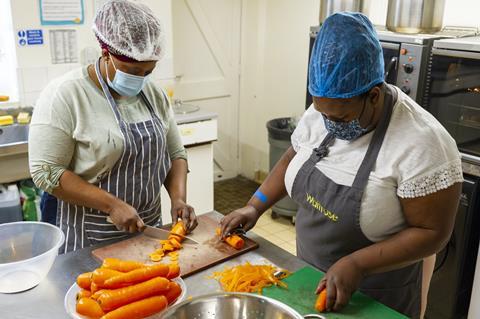 Waitrose is to begin redirecting surplus food from its farm to redistribution charity FareShare.
The upmarket grocer will begin the trial next month, donating five million apples, carrots, mushrooms and brussels sprouts as well as a million eggs and 22 tonnes of beef from its farms.
The scheme will involve Waitrose's own Leckford Estate as well as key suppliers Worldwide Fruit, Staples, Produce World, Dovecote Park and Stonegate.
The donated food will be produce that falls outside standard industry specifications.
The first phase of the trial will take place from 1 March until 30 June.
Waitrose is aiming to create more than a million meals over the coming months through the trial and will encourage other supermarkets to follow suit.
"We are just 5% of the market. If we all stand united, we could accomplish something truly ground-breaking," a Waitrose spokeswoman said.
James Bailey, executive director of Waitrose, added: "We've all been inspired by the brilliant work Marcus Rashford has been doing, and we believe there is now a real opportunity for the industry to stand united and help tackle food poverty right from the farm. While farm surplus is put to good use, we must do everything in our power to divert any edible food we can to families that need it during this pandemic."
"As the only supermarket to own and run its own farm, we know how much pressure farmers are under to keep the nation fed, so it's vital this burden and cost does not rest on their shoulders.
"This is why we will be funding all handling costs until the end of June to get food on the plates of those that need it most. This is just the start and we hope this will lead to us achieving our goal to one day eradicate all avoidable and edible farm waste."