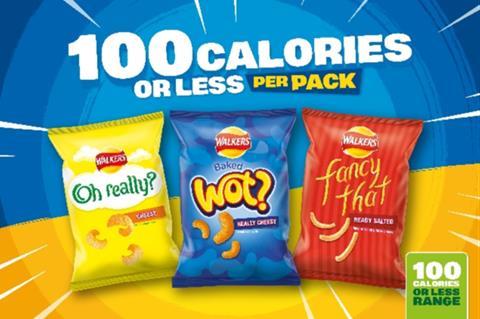 Walkers is hoping to boost its credentials with health-conscious Brits with a new campaign playing up its calorie counts.
The push, which aims to "raise awareness and inform consumers' snacking decisions", will see its brand logos replaced with "words of surprise", drawing focus to the fact the crisps contain 100 calories or less per bag.
It will run across multipack formats of Walkers' Wotsits, Quavers, French Fries, Squares, Snack-a-Jacks, Frazzles and Chipsticks brands from 31 July.
For example, Wotsits will be transformed to 'Wot?' and French Fries will read: 'Fancy that'.
It will be backed by TV and OOH advertising with "humorous" new TV ads which feature shoppers' reactions to discovering the calorie content of their bag of Walkers snacks.
Shoppers were "genuinely surprised when they learned their favourite snacks were under 100 calories", said Walkers senior brand manager Geoffrey Holtes.
"Since calorie content is such a key consideration when making snack purchases, we wanted to ensure our customers are informed."
The move comes as a number of fmcg brands are focusing on portion-controlled formats.
Last week, Ritter Sport unveiled its first portion-controlled count line range.
Available in Cornflakes, Whole Hazelnuts, Alpine Milk Chocolate and Butter Biscuit flavours, each SKU contains two 33g bars, offering less than 100 calories per portion.
The NPD was "perfect for self-treating on the move or for enjoying 'one now and one later'", said Ritter Sport.
Last year, Mondelez introduced a 200-calorie cap on all Cadbury multipacks in a move it claimed would remove 10 billion calories from the UK market.
The supplier reduced the size of all Cadbury chocolate bar brands – including Boost, Double Decker and Wispa Gold – sold within multipacks.