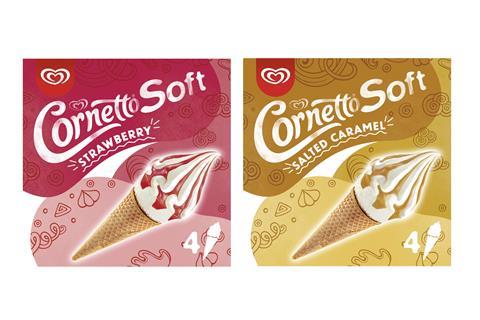 Wall's has launched a Mr Whippy-esque soft ice cream version of Cornetto that can be served straight from the freezer.
Inspired by the ice cream van staple, Cornetto Soft is the result of high-tech innovation that ensures it remains soft in the freezer, says Wall's owner Unilever.
Ice cream chefs had "master-blended our recipe to have the perfect micro-structure to create a soft texture – even at –18°C", it told The Grocer.
The range comprises three flavours: Salted Caramel, Strawberry and Chocolatey, with the latter exclusive to the impulse channel.
In each SKU, the ice cream is topped with strawberry, salted caramel or chocolate sauce, and served in a wafer cone with the brand's "iconic" chocolate tip. The top of the ice cream is covered with a shaped plastic lid made from 50% recycled plastic.
The range quietly rolled into the mults this month, priced at £3 for a four-pack and £1.60 for a single.
The NPD was developed in response to shopper demand for out-of-home experiences in home, said Unilever ice cream brand experience director Jennifer Dyne.
"We're delivering what consumers are looking for – that indulgent experience that they would have got out of home but bringing it in home and making sure that we're making a sustainable difference," she added.
It is the latest in a series of ice cream launches from Unilever.
This month also saw the debut of a new Double Gold Caramel Billionaire SKU for its Magnum brand in both stick, mini stick and tub formats.
Taking inspiration from a Millionaire's Shortbread, the launch features ice cream swirled with caramel sauce and coated in caramel chocolate, topped with biscuit pieces.