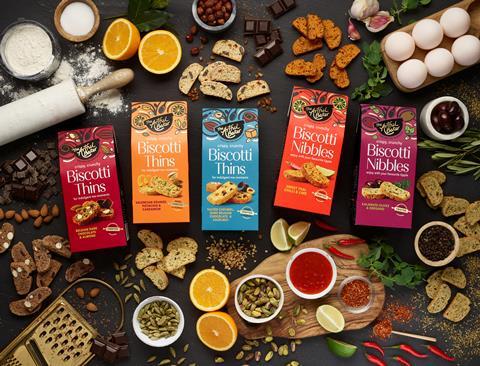 Warburtons has backed biscuit producer The Artful Baker in the maiden investment as part of its Batch Ventures bakery innovation fund.
The six-figure funding package is the first of several the Batch joint venture has lined up for 2021.
Warburtons teamed up with grocery accelerator Mission Ventures in the summer of 2020 to support innovative start-ups and SMEs in the bakery category.
Founded in 2013, Dorset-based Artful Baker produces a range of sweet and savoury biscotti available nationwide, while sub-brand Great British Biscotti Co supplies independents and foodservice, as well as export markets. The business also supplier private label biscotti to Hotel Chocolat.
Warburtons chairman Jonathan Warburton said he was impressed at the quality of the products and the level of innovation.
"We see a great opportunity to support their growth plans," he added. "Working with Mission Ventures, and using Batch as a vehicle for small investments in a portfolio of promising brands, gives us an opportunity to support early stage entrepreneurs."
Artful Baker founder and CEO Paul Rostand said the investment from Batch was "a great step forward" on the journey of scaling the business in the UK and overseas.
"We already supply our biscotti to Italy and are seeing increased interest from buyers overseas," he added.
Batch Ventures was created to support the growth of SMEs and start-ups working in and around baked goods by equity funding with support from entrepreneurs and industry professionals.
Mission Ventures, founded by fmcg industry veterans Paddy Willis, Nigel Parrott and John Stapleton, also runs the Good Food Fund to support brands tackling childhood obesity.
CEO Paddy Willis said: "Paul and his team at The Artful Baker have proven their ability to make high quality products. Batch Ventures is pioneering a new approach to corporate venturing and the combined experience of our team of seasoned entrepreneurs with the support of Warburtons brings great strength to this operation."
Batch Ventures is expected to announce a second investment later this month and is actively seeking new investment opportunities.