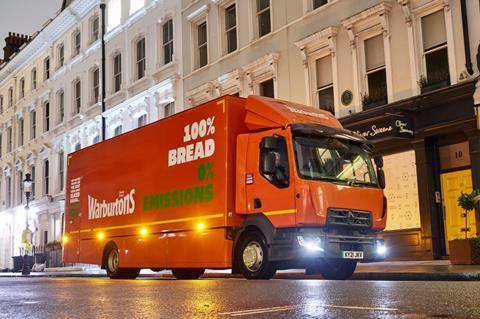 Warburtons is struggling to keep up with local deliveries amid the national shortage of drivers.
A spokesman for Warburtons confirmed the driver shortage was putting a strain on its local distribution network, after convenience store retailer Samantha Coldbeck complained about a missing delivery on social media.
"Very poor communication today. No bread delivery, phoned up and told by a very harassed lady in telesales that we won't be getting one due to driver shortages," she Tweeted last week.
Coldbeck told The Grocer she had recieved the delivery the following day, but availability was "crucial" to community retailers and communication was "key to minimising disruption in the chain."
The spokesman told The Grocer: "We are managing to maintain a good level of service for our customers nationwide.
"However, at a local level things are more challenging and we, like many businesses, are experiencing higher levels of absence due to the rise in community infection rates of Covid-19 and the knock on effect that has with more people having to self-isolate."
Warburtons would "continue to work closely with our customers throughout this difficult period and would like to thank them for their patience and understanding", he added.
It comes as a host of major food and drink manufacturers have issued warnings to their retail and wholesale customers over their service levels as the impact of the driver shortage becomes more tangible.
As reported by The Grocer this month, confectionery giant Haribo has pulled promotional activity in a bid to protect availability.
Last month bottled waters were in short supply, with surging demand and production issues compounded by the lack of drivers leaving shelves stripped in major supermarkets.