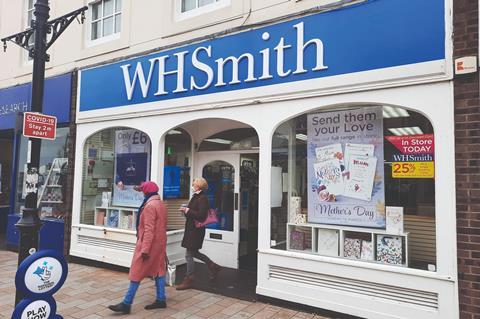 WH Smith is demanding its landlords bear the burden of property costs in any future lockdowns.
The retailer is arguing so-called 'Covid clauses' will become a standard feature of leases and therefore should be included in its renewals.
WH Smith is setting out the expectation in legal notices to landlords under Section 26 of the 1954 Landlord & Tenant Act, which covers an occupiers' right to renew expiring leases on similar terms.
"WH Smith on lease renewals are serving a Section 26 notice setting out the terms they propose, and they are proposing Covid clauses on the basis it will represent the open market," said a lawyer advising one of the landlords.
"So, although they are entitled to statutory renewal of a lease on the same terms as the existing one, they're already trying to argue that a Covid clause will become the norm and so should be included in statutory renewals, not just on new leases."
Retailers have been pushing for Covid clauses since the initial lockdown last year. Poundland told The Grocer in June it was seeking them in all new lease agreements.
The terms of the clauses are varied but can typically require concessions from landlords such as reduced rent during a lockdown, or a switch to the retailer paying a proportion of turnover.
However, WH Smith was proposing a full suspension of rent, said the source. "It's one line: rent to be suspended during events such as the Covid-19 pandemic. They're expecting their financial liabilities to cease."
WH Smith's use of a Section 26 notice to propose the clause was also significant, the source said. "The point is they seem to be ultimately prepared to argue in court this is now a term that should be implied into statutory renewals as the open-market norm.
"I can't see that any landlord will accept a provision where if there's a lockdown the tenant has no liabilities whatsoever. Not when the government is giving companies funding and there could be more regional lockdowns."
WH Smith did not provide a comment.
The majority of the retailer's high street stores have remained open in the latest lockdown, including over 200 post offices.
A recent WH Smith trading update said sales in the 20 weeks to 16 January 2021 were at 59% of the previous year's levels. High street stores managed 87%, but travel locations were at just 37%.