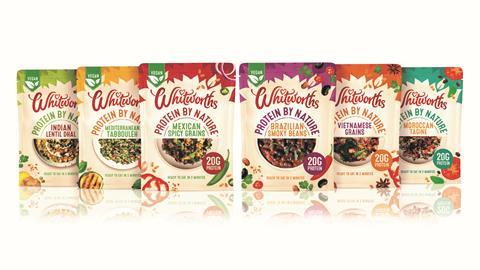 Dried fruit supplier Whitworths has bounced back into profit as the boom in home baking and focus on healthy foods during the coronavirus pandemic drove a 19% jump in sales.
Total sales for the 53 weeks to the end of December 2020 were up 19% to £142m, compared with £117m in the previous year.
Whitworths said revenue growth had been boosted by significant business wins, brand innovation and expansion towards a more diversified customer base.
It said Covid had a "largely positive" impact on the business over the past year, despite incurring increased costs to ensure the site and the workforce were protected.
It also benefited from NPD during the year, such as Whitworths' Protein by Nature range, expanding beyond its core dried fruit and nuts heritage to offer beans, pulses and grain pouches to health-conscious consumers.
The strong sales growth helped the company return to an operating profit of £3.4m, compared with a £0.6m loss in 2019.
The company had previously made an operating loss in both years following its acquisition by Turkish fruit giant Anatolia, which has led a turnaround by reducing costs and refocusing the business on higher-margin snacking products.
Operating losses were cut from £1.5m in the first year following Anatolia's May 2017 acquisition and it made an operating loss of £1.1m in 2019 according to filed accounts at the time.
The scale of its repositioning and focus on healthier snacking comes as only 8% of all consumption occasions are around sweet baking.
Whitworths said further innovation in savoury nuts was expected later this year to tap the growth in evening snacking.
"We're pleased to see our hard work pay off with results improvement for a fourth consecutive year, which can be attributed to a clear focus on our core strategy," said CEO Mark Fairweather.
"Having repositioned our brand into healthy snacking, the launch of Whitworths' Protein By Nature ready-to-eat range is our first step in diversifying further in to healthier mealtimes and taking us into a whole new category while retaining our natural credentials.
"We've been working hard, and are extremely committed, to the site regeneration and ongoing investment for long-term success. Our export business is gathering momentum and we look forward to seeing the results of this activity in the future."
The company committed to a site regeneration project in June 2019, which will recommence in 2021 after Covid delays last year, with total investment of £10m by the end of 2021 to improve capacity and productivity.
Whitworths is looking to further diversify its customer base with the implementation of packaging redesign, recycling rollout and a packaging reduction programme.
To supplement this, the company will increase its marketing support, with Whitworths returning to TV screens with the launch of a new 60-second ad later this year.