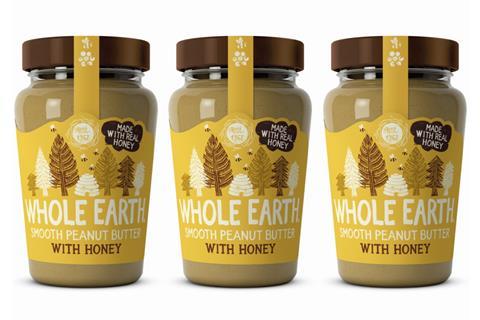 Whole Earth has unveiled a new honey peanut butter.
The NPD combines Whole Earth's smooth peanut butter with real honey, and is being touted as ideal for porridge and cereal toppings – or to spread over pancakes.
It "brings together two powerhouses in the spreads category into one jar", said Whole Earth marketing and category director Bryan Martins.
"For all those people who add both peanut butter and honey to their breakfast, it is not only convenient but also tastes incredible."
It would similarly appeal to home bakers, he suggested.
It rolls into Asda next month (rsp: £3.99/340g).
The launch comes on the back of a tremendous year in the supermarkets for Whole Earth.
The brand – the UK's fourth-largest spreads brand and its largest peanut butter brand – grew its value sales by almost a third (27.8%) in 2020, rising £6.5m to £30.1m over the 52 weeks to 9 September, on volumes up 31.7% [Nielsen].