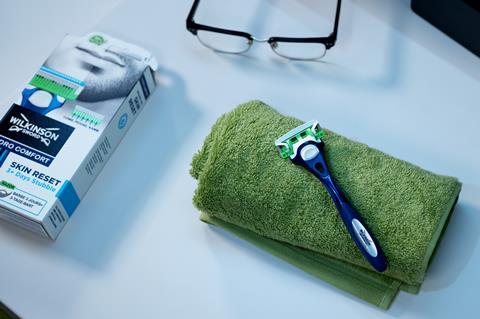 Wilkinson Sword has unveiled Hydro Comfort Skin Reset, its first razor designed to tackle up to seven days of stubble.
Its head features three blades. A comb guard aligned hair with the leading blade to provide "a close shave without pulling, tugging, or irritation" the supplier said. Skin guards on each blade promise extra protection – and water-activated 'pools' of gel across the blade cartridge help to protect from irritation. There is also a flip-back precision trimmer to edge and trim in hard-to-reach places.
Available now, Hydro Comfort Skin Reset (rsp: £17.50) comprises a handle and five cartridges – all in plastic-free packaging made from more than 90% recycled paper.
Its launch came in response to the rising trend of "swingers", men who regularly switched between clean-shaven and heavy stubble, Wilkinson Sword said.
"Swingers account for 25% of British men, equating to a large proportion of the Wilkinson Sword audience, and we know these men prefer a systems razor to an electrical solution to deal with their longer hair."
The current relaxed approached to shaving – a result of lockdowns – was "an extension of a longer-term trend towards facial hair wearing in the UK, with 29% of 18 to 30-year-olds confirming their routine has changed since Covid by 'having more stubble than usual on my face'", the shave giant added.
Razors and blades shifted 5.4 million units last year across grocery, as housebound men paid less attention to being clean shaven [Nielsen 52 w/e 5 September 2020]. As a result, Wilkinson Sword's core offer suffered a 16.3% value decline, as the overall sector lost £24.7m.