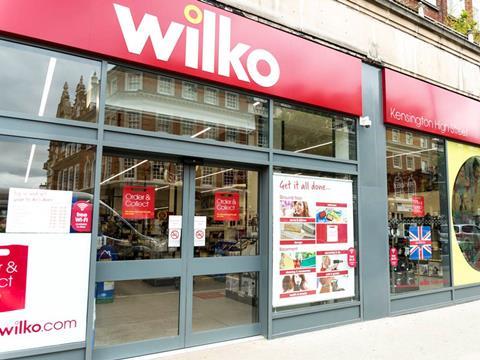 Wilko revenues have slumped by £107m despite remaining open throughout lockdown as an "essential" retailer as the pandemic saw shoppers disappear from the high street, newly filed accounts at Companies House revealed.
Sales fell 7.3% to £1.4bn in the year ended 30 January 2021, with like-for-like figures down 7.7%, according to the accounts. It is the third consecutive year the top line at the retail chain has declined, having fallen from £1.6bn in 2017/18.
The group, which celebrated its 90th year on the high street in 2020, blamed the "unprecedented challenges" of Covid for the drop last year as footfall at its high street and shopping centres stores, which make up the bulk of the 414-strong estate, registered declines of more than 40% after the March 2020 lockdown to the end of the financial year.
Despite the difficulties, underlying profitability remained buoyant, with a £200K increase in EBITDA to £48.3m, as it kept a close control on costs and benefitted from millions of pounds of business rates relief handed out by the government.
Wilko also paid its family owners a dividend of £2.3m during year, a £750,000 increase on 2019/20, and awarded top-level management and directors long-term incentive bonuses totalling £2m.
The retail chain said in its accounts it had used rates relief to invest in Covid safety measures, such as marshals on the door at shops and to help shield vulnerable team members with full pay for those forced to stay at home.
The accounts did not breakdown the total amount of Covid-related costs incurred during the year and Wilko did not provide a figure following a request by The Grocer.
But Wilko joined rival discount chains Poundland, The Range and Home Bargains in not repaying the rates holiday, unlike the major supermarkets and discounters, as well as B&M, which gave the relief back.
A spokesman for the retailer told The Grocer that Wilko was "not in a position" to pay back rates relief as the high street continued to remain "under significant pressure", with an on-going reduction in footfall.
"We're grateful to the government for their help with rates relief, which has gone some way to help offset the additional costs of enhanced safety measures necessary to protect our customers, team members and suppliers," he said.
Wilko added it took "great pride" in not having to furlough any staff during the pandemic, "providing job security and stability to staff".
The accounts also showed a large drop in the average monthly number of employees in 2020/21 compared to the previous year, with retail staff numbers down from 15,443 to 14,064 and a fall in distribution staff from 2,237 to 1,932. Full-time equivalent employees in the group at the year-end stood at 8,648 versus 10,972 in the previous financial year.
Wilko has not yet responded to a request for clarification on the cause of the decline of staff numbers.
Soaring digital sales – almost doubling to £81.7m as shoppers embraced online shopping during lockdown – were not enough to offset the lost physical revenues.
Wilko also stuck to its investment plan for the year, injecting £31.8m across "key strategic areas" within supply chain, IT and the customer proposition.
Matthew Walton, senior retail analyst at GlobalData, called the latest results "disappointing" considering Wilko's essential retailer status and strong growth at the likes of B&M, The Range and Home Bargains during the pandemic.
He said, like Poundland, Wilko's more central location undoubtedly hurt its performance as Covid-cautious customers stayed away from the town centre. But, he added, "Wilko should have benefitted more from its transactional website, an advantage over B&M and Poundland, as customers transferred their non-food spend to this channel".
Wilko boss Jerome Saint-Marc, who was promoted to CEO as part of a restructure at the group prior to the pandemic, said the business had met its obligations last year.
"Our history is steeped in serving our customers and communities going back to 1930," he added. "Our founder JK Wilkinson would have expected us to stay open to serve our communities when they really need us, and that's just what we've done.
"We invested in safety to protect our team members and our customers and then we rolled up our sleeves, pulled together and got on with it. We've protected jobs, paid our team members in full (without seeking government assistance to do so) and paid a thank-you bonus at all levels for the financial year 20/21."
He said there was no escaping the impact the pandemic and that traditional British retail had been particularly badly affected.
"Our focus has remained on further developing our omnichannel offer, controlling cash, developing great product and investing in our future, and, given all the challenges of such difficult trading circumstances, the directors are satisfied with the 2021 results."
Pre-tax profits during the year fell by £7m to £4.4m, with the previous financial period benefitting from a non-cash exceptional credit of £7.6m to reverse a past impairment charge.