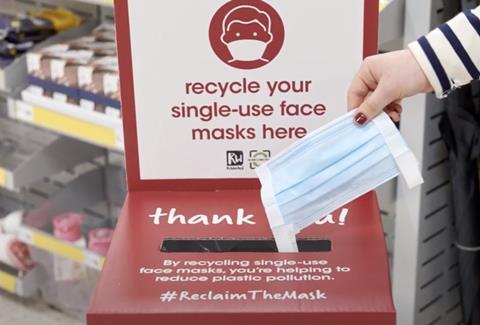 Wilko is to keep its face mask recycling points in stores for another three months because the service has proved so successful.
The home and garden retailer claimed a high street first with the launch of the initiative on 1 April, but it was initially intended to run for just three months.
The recycling points are now to remain in all 150 stores involved in the pilot until the end of September.
Wilko estimates the scheme could result in a total of 400,000 disposable face masks being recycled before it ends, equating to 966kg of single-use plastic.
Masks dropped in the bins by customers are taken to Wilko's recycling partners ReWorked, Metrisk and Scan2Recycle. They are then "broken down into raw fibres" which are used to produce "products ranging from other safety materials for businesses, to building materials and even quality, durable public space furniture", a spokeswoman for the high street retailer said.
She said Wilko was still recommending staff and customers wear face coverings, while the business also respected individual choice following last month's lifting of the requirement to do so.
"We know that our customers care about the environment and this scheme has proved again to us just how much," said Wilko CEO Jerome Saint-Marc.
"We're so delighted that it's been this much of a success and that our customers and team members are helping to reduce litter in their communities, our partners are helping to recycle the waste and that we're able to bring it all together in our stores.
"It's a little win that truly makes a world of difference."
In June, Morrisons also launched recycling points for disposable face masks, introducing bins to 488 stores in partnership with The Sun newspaper.