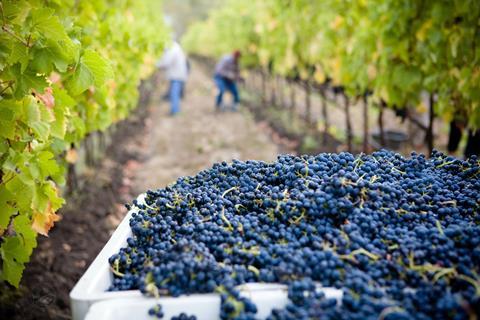 Wine prices are set to rise this autumn as stocks run short following poor harvests in the southern hemisphere.
New Zealand's sauvignon blanc yield is down 30% on last year due to poor flowering, meaning there will "continue to be limited supply and high pricing," according to Ciatti, the world's largest broker of bulk wine. A similar pattern is seen across New Zealand's pinot noir and pinot gris.
Increased demand during the pandemic has placed pressure on wineries around the world. In Chile, 2020 whites are sold out completely, and some wineries already report some 2021 vintages have run dry. It is in part due to buyers seeking new sources of sauvignon blanc in light of New Zealand's shortfall.
Australia bucks the trend where wine prices have fallen since China imposed a 218% import tariff on Australian wines as part of an ongoing trade war. Some Australian wineries have sought to circumvent the Chinese tariffs by supplying China with Chilean reds, said Ciatti, but actual deals are yet to materialise.
For almost all wine buyers, a global shortage of shipping containers continues to cause havoc. An acute shortage of space is driving transport prices to record highs and for many, simply finding a carrier is a challenge.
The delays have pushed Freixenet Copestick to increase stock levels at its bottling facilities in France, according to head of supply chain and procurement Rob Hilton, while some buyers are opting to buy closer to home instead.
"It's taken a lot longer to get wine out of places like South America and therefore people are looking much closer at Europe to get their wine," said Hilton.
Yet Europe is not without its own problems. Prolonged frosts in French regions such as Bordeaux, Burgundy, Loire Valley, and Champagne at the start of April are expected to have caused significant damage although the exact extent will not be fully known until the harvest begins in the coming weeks.
Similar cold weather also hit certain Italian regions meaning Tuscany's sangiovese and Emilia's lambrusco and sangiovese could all fall short, said Ciatti.
Prosecco exports to the UK have fallen by 9% so far this year due to Brexit red tape, according to Italy's Coldiretti farming union, however that has not stopped prosecco prices continuing to rise. Prosecco prices are increasing to a minimum of €1.70/litre and bulk availability is becoming short, said Ciatti.