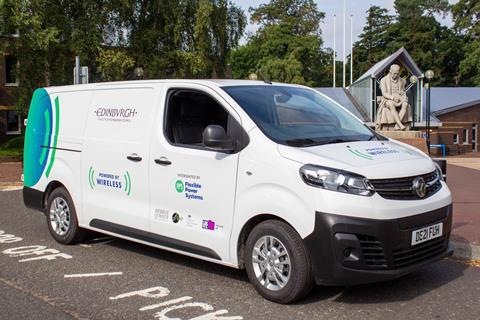 A trial of wirelessly charged electric vans has begun in Edinburgh today, in what is understood to be a world first for the technology.
Four modified Vauxhall electric vans will complete daily duties for Heriot-Watt University and The City of Edinburgh Council. When their batteries run down, instead of being plugged in, the vehicles will be parked over an electric pad and be "topped up in under an hour".
Wireless charging of vans had "huge implications" for the grocery sector, said tech company Flexible Power Systems, which is leading the £1.6m project.
"Wireless changing could offer fleets efficiencies in terms of number of chargers needed, time required for charging and space in depots, all barriers to electrification," said said FPS MD Michael Ayres. "In future, driverless vans could even be used, as no one is needed to plug in charging cables."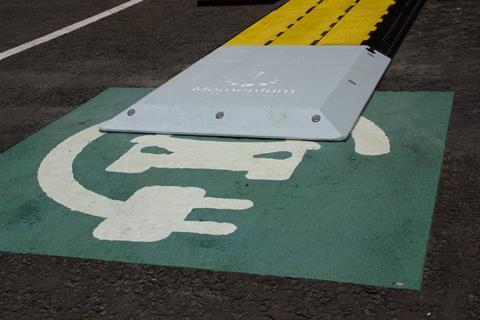 The Edinburgh trial – which runs until April next year – involves two vans used by the university's estate team and two vans used as internal post vehicles by the council. It is understood a similar trial involving a UK food business is to commence later this year.
Several UK grocers are beginning to transition their delivery vehicle fleets to electric power. Tesco's electric vans began delivering to customers in November last year, when the supermarket made a commitment its entire fleet would be electric by 2028. Ocado has several electric vans, and had planned to use an all-electric fleet at its now-scuppered new Islington depot. Asda in May last year introduced a fleet of 50 small electric vehicles to ferry orders from stores to click & ­collect points. In December, Co-op announced plans to replace its entire home delivery fleet of more than 200 diesel vans with electric vehicles by 2025.
"There has to be electrification of vehicles in future, we can't go on burning fossil fuels," said FPS chief engineer, electrical systems James Derby. "Wireless is now part of the mix of advanced charging technologies we can offer fleets adopting EVs."
Funding for the trial is being provided by the UK government's Office for Low Emission Vehicles through its innovation agency Innovate UK.