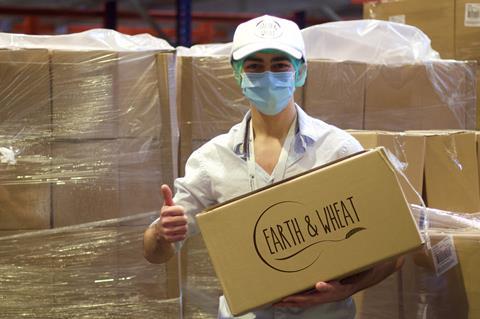 A 20 year-old baker and student has launched a subscription box for 'wonky' bread in a bid to cut down on food waste.
Called Earth & Wheat, it is the brainchild of James Eid, a business student and fourth-generation baker at Signature Flatbreads.
It will offer weekly or bi-weekly boxes of bread that would have otherwise been binned during the production process due to appearance, size or overproduction.
They will initially contain bread solely from Signature Flatbread's factory, but Eid plans to partner with local bakeries around the country as the business scales up.
Boxes cost £6.99 and come in at 2.5kg, which was "enough for a week's worth of bread for a family of three or four", said Earth & Wheat. They do not contain any sliced bread but a "random and mixed variety of crumpets, sourdough crumpets, tortillas, wholemeal tortillas, butter-flavoured tortillas, pittas, wholemeal pitta, focaccia, scotch pancakes and buttermilk pancakes".
For every box ordered, Earth & Wheat said it would donate the equivalent of a meal's worth of bread (450g) to food banks "to help fight food poverty in the UK".
The business' "vision is to ultimately reduce food waste by delivering perfectly fresh wonky bread and supporting local communities when times are tough", said Eid.
"Our wonky breads may look unattractive, but it will probably taste fresher than the bread at the shops – this is because it is shipped directly from UK bakeries. Some of the breads are more suited for breakfast, lunch and dinner hence it will be eaten quicker."
Bread from the boxes could be frozen on delivery to last for "many months", he added. "We want to target environmentally conscious people and families with children who want to help make a difference where they can."