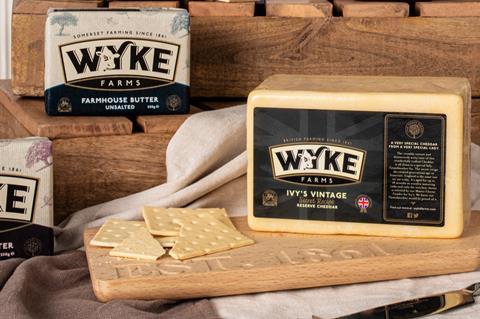 Wyke Farms hit its highest ever turnover last year, as sales rose by 10% to £107.2m for the 12 months to 31 March 2020, its latest accounts show.
The West Country-based cheesemaker said sales had been boosted by "good growth in exports both to the EU and the rest of the world", which were up about 20% year on year.
Wyke's renewable energy business had also become "a significant part of total turnover", it said.
"We are increasingly selling more older, long aged cheeses into these markets and continue to grow our cheddar maturing stocks to service this growing sales mix," said Wyke MD Rich Clothier.
Operating profit was up 9.5% £4.3m. However, total profits were slightly down year on year, falling by 1.4% to £2.3m on the back of a challenging UK cheese trading environment.
"There is tough competition for shelf space which means that margins have been slim," Wyke said. "We have also seen and continue to see labour and packaging price increases which we have found difficult to pass on against this backdrop."
The supplier – which recently opened a new export hub at its Wincanton distribution centre – had also invested heavily in automation to reduce labour costs at its packing plant and also reduced the packaging content of its products.
And despite the slight fall in profit, Wyke's directors said they were "satisfied with the results for the year".
As a result of expansion at Wincanton, the supplier now held more than £30m-worth of cheese stocks (its highest ever levels) and had an annual packing capacity of up to 50,000 tonnes.
"This makes our site an export centre of excellence complete with its own cheddar museum for customers to visit," it said. "The additional maturing space will allow us to hold more aged cheese to service these growing export markets."
Looking forward to 2021 and beyond, Wyke said had secured planning consent to rebuild its manufacturing dairy, while its 100% Green strategy continued "to underpin all business decisions".
Clothier said the company continued to invest in their renewable energy business, with green gas production capacity from farm and business waste increased, together with increased solar on roofs.
Wyke had also reduced its scope 2 emissions over the past year by replacing face to face meetings with Microsoft Teams.
"It's been a revelation for us; we now communicate better than ever and without people driving thousands of miles per year, their risk of accident is less, and they can spend more time with family. Post Covid we will retain some of these good practices and not return to old ways," Clothier said.