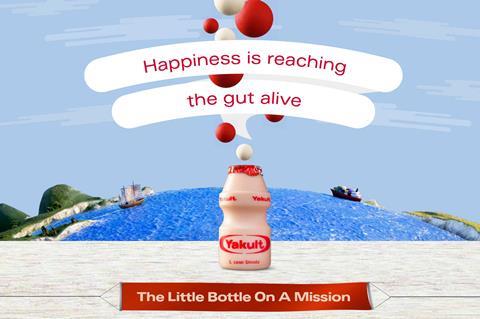 Yakult has unveiled a major £2m marketing push to celebrate the 25th anniversary of its UK and Ireland launch.
Called 'The Little Bottle on a Mission', the push aims to recruit new drinkers into the brand whilst also strengthening its wellbeing credentials in the dairy drinks fixture.
Launched this week and running until December, it includes a new TV advert showing Yakult's journey from Japan in which a Yakult bottle rockets across the skies above animated towns and cities while a narrator explains its health and wellbeing properties.
It is also to span radio, print, outdoor, digital and PR activity.
The brand said the campaign highlighted Yakult's mission to "inspire happiness and wellbeing through science" and its "ongoing mission to invest in scientific research into microbiology and bacteria".
"We know British and Irish consumers become loyal fans once they come to know and love a product and we are on a mission to have more of them try Yakult," explained Yakult UK & Ireland MD Hiroaki Yoshimura.
"We are very proud to celebrate 25 years in the UK and everything the team has achieved during this time. We have played an important role in educating consumers about bacteria and the gut, sharing the science and Yakult's own 85 years of research, but we've also learned a lot along the way."
Yakult currently holds an 11.9% market share of the active health drinks market [IRI 52 w/e 19 June 21], with its own figures showing 200,000 bottles leave its factory each day.
Yakult said over the past 25 years more than 1.7 billion bottles of its fermented milk drink had been sold in the UK.