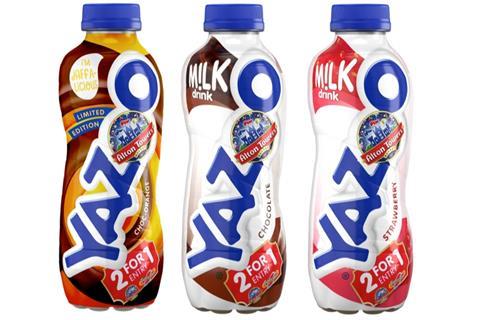 Yazoo has rolled out 100% recycled packaging across its 300ml and 400ml bottles.
The rPET bottles, which have already hit shelves, feature "easy peelable sleeves" to "make stripping and correct recycling simpler", said Yazoo.
They are made using HDPE (high-density polyethylene) and PET (polyethylene terephthalate), which are both recyclable.
Previously, the 300ml and 400ml bottles used 20% rPET packaging. The new 100% rPET packaging would save Yazoo using over 32 million kilograms of non-recycled plastic, it said.
It added it had surpassed its initial target to move to 100% rPET packaging by the end of 2021.
The brand plans to roll the new packaging out across the rest of its range in 2022.
Yazoo marketing manager Kate Allison said: "Sustainability is a huge priority for us. We've been on the journey to become a more circular brand for some time, and this latest project is a big phase of that."
The move follows Yazoo's recent commitment to roll out Tetra Pak cartons and bendable straws across its No Added Sugar range.
Its owner FrieslandCampina UK enjoyed a 13.4% increase in sales last year on the back of strong growth for the brand and its own-label operation.