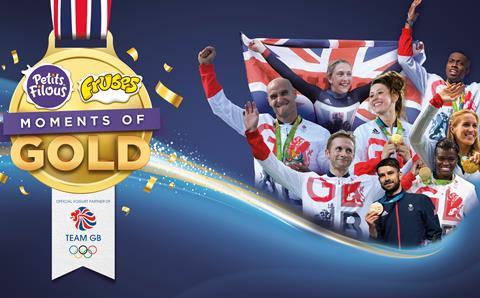 General Mills has teamed up with the British Olympic Association for a new partnership that will see its Yoplait Kids yoghurt brand sponsor Team GB for the next three Olympic Games.
The three-year partnership takes in this summer's delayed Tokyo Olympics, the Beijing Winter Olympics next year and the 2024 Paris Games, and will see Yoplait Kids brands Petits Filous, Frubes and Wildlife become the official yoghurts of Team GB.
A seven-figure ATL campaign would include a TV push from June, in-store activations, on-pack promotions and social media activity with Team GB athletes, General Mills said.
Yoplait Kids is also launching a 'Moments of Gold' campaign, designed to motivate the next generation of athletes by introducing them to Team GB values and the possibilities of Team GB through fun and play, it added. This would include the creation of "the nation's greatest sports day", this summer, centred on a mass participation grass roots sports event.
More detail on which athletes would become involved in the campaign would be released in due course, said General Mills. Yoghurt giant Müller currently sponsors GB Athletics through a deal fronted by sprint star Dina Asher-Smith. However, the BOA stressed Team GB's reach across 33 different Olympic disciplines meant the partnership would showcase a number of different sports.
The Yoplait Kids brand and Team GB shared the same values, said Team GB commercial director Tim Ellerton, while the partnership was kicking off at a Tokyo Games that would also showcase new, kid-friendly sports such as surfing, sport climbing, skateboarding and karate.
"These athletes will be doing sports that kids can relate to," he told The Grocer. "Both kids and athletes have been very resilient over the past year, so the Olympics couldn't have come at a better time. It's time to get excited about sport again."
The undisclosed investment by General Mills in Team GB was "crucial in delivering the infrastructure to give our athletes the best possible chance of success", Ellerton added.
Yoplait Kids joins the likes of McVitie's and Aldi as official food sector partners of Team GB.
"Team GB's mission is to 'Unite & Inspire through the power of Olympic sport' and we felt this was a perfect fit with Yoplait Kids," said Joanna Goodman, GM's northern Europe head of marketing for yoghurt.
"We have shared values around inspiring the next generation to get active and embrace the unifying joy of sport and play," she added.
"With the renewed importance of uniting people in the 'new normal' world, we believe it's a great opportunity to provide more moments where families, inspired by our amazing Team GB athletes, can be active together," Goodman said.
"Whether it's those tentative first steps or a kick-flip in the skate park, our 'Moments of Gold' campaign will inspire families to have fun and play games together, nourished by Yoplait. We're incredibly proud and excited to be partnering with Team GB to get the nation moving."