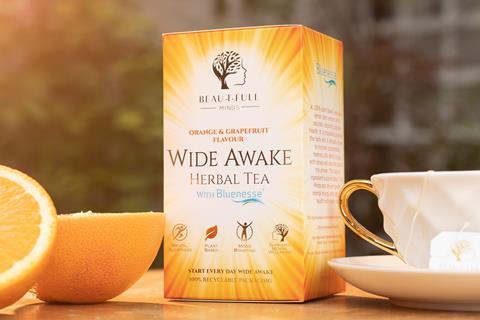 A new functional hot drinks brand backed by a duo of York-based tea suppliers is to debut this April.
Called Beau-T-Full Minds, the brand will launch with a range of teas and coffees that all focus on mental wellbeing.
All nine SKUs in the lineup contain active ingredients – such as Bluenesse, vitamin D, CBD and probiotics – and herbal adaptogens, which the brand said would support all-round cognitive health.
The range includes: Wide Awake Herbal Tea, Deep Sleep Herbal Tea, CBD Herbal Tea, Probiotic Herbal Tea, Immunity Herbal Tea, Manuka Honey Coffee, CBD Coffee, Lions Mane Coffee and Probiotic Coffee (rsp: £3.99).
Beau-T-Full Minds is backed by tea company Ringtons as well as its supply chain partner Infusion GB, which decided to work with Beau-T-Full Minds after "spotting a gap in the herbal tea market", it said.
Ringtons and Infusions GB supported the launch of the business with an investment for a combined 27% equity stake, and will sit on the board of directors.
Other members of the board include entrepreneur Tom Riddolls as MD, former England rugby player Charlie Simpson-Daniel as sales director, Harry Potter star James Phelps and rugby coach Ben Ryan as directors and ex-Baxters Soup technical director Roland Froebel as technical director.