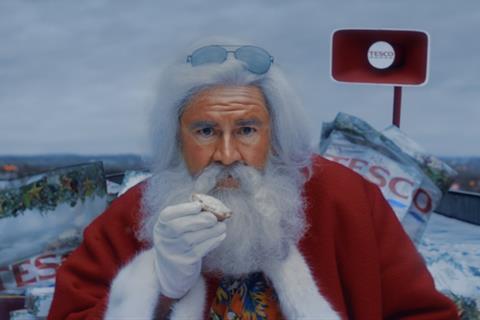 Tesco's 'No naughty list' ad is the nation's favourite supermarket Christmas ad this year, according to analysis of data from YouGov BrandIndex.
Out of all retail and fmcg category brands tracked, it came second only to McDonald's and its CGI 'Inner Child' festive ad.
Aldi, M&S, Asda, Lidl and Sainsbury's all saw their festive ads push their brands into the top 15 ranking last month, based on consumer awareness of the ads.
However, despite the usually strong performance of its Christmas ads – it came third in December last year, and in 2018 – John Lewis was placed at 18 on the November index. Morrisons came in at 23.
Tesco's high-impact Christmas ad comes after a stellar performance by its marketing team through the year. Its 'Little helps for safer shopping' campaign, which aired at the beginning of the pandemic, was one of the most effective of the year, according to YouGov. More recently, its Clubcard Prices ad reached 28 in the November rankings.
Tesco group marketing communications director Emma Botton said the supermarket had "done some of our very best and most effective work this year" despite all the difficulties of Covid.
"Our Christmas communications probably sums up it up quite nicely – after the year we've all had, Tesco says there is no naughty list, so go on, tuck in and drink up with all Tesco has to offer," she added.
The data echoes the views of a panel of advertising experts in The Grocer last month, who named Tesco's 'No naughty list' ad the best of all the supermarkets' offerings.
"The best way I can describe this is neat," commented Simon Lloyd, chief creative officer, Dentsumcgarrybowen UK and creative director of last year's John Lewis/Waitrose ad. "Tesco has tackled Covid with a lovely strategic thought: in such a brutal year, no one deserves to be on the naughty list."
Courier firm Just Eat – whose long-running campaign featuring Snoop Dogg was given a festive update this month – was placed third in YouGov's November ranking. Amazon's ballerina ad saw the brand placed fifth, with comparethemarket.com, Go Compare and Argos all making the top 10.
"Christmas is the most lucrative time of the year, and also when marketing and advertising teams aim to create the most memorable and sale-driving Christmas advert of them all," said Amelia Brophy, head of account management UK at YouGov. "However, creating the most fondly remembered Christmas ad doesn't always translate directly into increased sales, and companies aren't always successful in striking the balance between festive and effective.
"A successful Christmas advert ideally needs to generate lots of positive buzz about the brand both in the lead-up to release and after, increase customers' likelihood of purchasing from the brand and also improve the customer's perception and impression of the brand, which will hopefully lead to further sales down the line," she added.
McDonald's is set to get further pay-off from its hit ad, given the song it features – a cover of Alphaville's 1980s hit Forever Young by Becky Hill – is in the running for this year's Christmas number one.