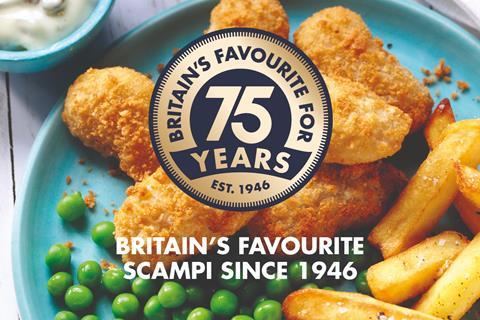 Young's Seafood has unveiled a major push for its scampi lineup as the supplier celebrates 75 years since playing a role in the invention of the product.
Appearing across TV, online and social media, as well as through retailer promotions and influencer activity, the Masters of Scampi campaign takes over from Young's long-running Masters of Fish campaign for the month of June.
The marketing drive has begun today and will see the brand showcase its four British and Irish-caught scampi SKUs and provide meal inspiration to consumers.
It marks 75 years since Young's was said to have contributed to the invention of the product. In 1946, a post-war lobster shortage led the brand to supply London's Ritz hotel with langoustine as an alternative seafood. A chef at the hotel cut the product into pieces and deep fried it – a move that inspired Young's to launch its first range of frozen scampi.
"From the invention of scampi 75 years ago to now, we've continually innovated to ensure there's a delicious scampi option for everyone and every occasion," said Young's Seafood marketing manager Keely Wade.
"We listen to our customers to make sure we're providing the tasty, environmentally friendly options they want at the same time as presenting them with delicious new ways to enjoy scampi and we hope they'll join us in celebrating this delicious British favourite."
Young's – which is part of the Eight Fifty Food Group – pointed to its success in meeting its 2018 target to reduce its use of paper and plastic packaging by 10% by the end of 2020 as an example of its consumer-focused innovation.
Over the past year, scampi has seen major growth as shoppers moved into frozen aisles during the Covid-19 pandemic. Young's branded scampi sales hit £37m with more than one million new shoppers adding the brand's scampi to their baskets [IRI EPOS 52 w/e 21 Feb 2021]. Last month, Young's said this uptick in demand and a wider rise in sales across its other lines had led it to launch a recruitment drive for 400 new employees at its Grimsby factory.
In recent months, Young's has also sought to target home-working trends with lunch-focused NPD and has revamped the packaging of its chilled ranges in a bid to entice younger shoppers into the category.