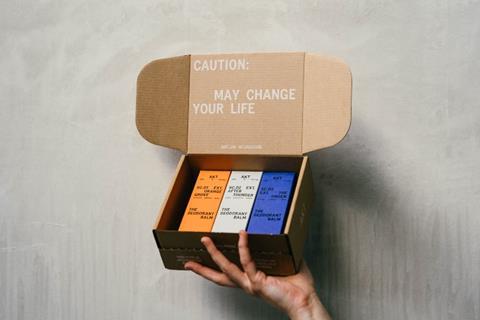 Natural deodorant brand AKT has secured £1.5m in a funding round to help it increase its plastic-free footprint across Europe.
The London-based start-up will also use the money to enhance its subscriptions, alongside its loyalty initiatives and ecommerce experiences.
AKT, launched by Ed Currie and Andy Coxon in 2020, plans to develop its range of 100% recyclable products beyond the deodorant balms currently offered on its DTC website.
The business raised the cash from Stonebridge, the digital-first consumer brand investment firm headed up by DTC entrepreneur James Cox, who is behind the mattress maker Simba Sleep, naturally medicated skincare brand Carbon Theory and footwear company Mahabis.
Cox said natural deodorants had been gaining significant momentum with more eco-conscious consumers.
"The organic deodorant market is set to be worth $158.5m by 2025," he added. "AKT's perfect blend of style and substance positions them well as a future winner, with the same attributes giving them license to extend the range at speed.
"They have these incredibly sophisticated fragrance profiles that actually perform. It really works as an effective deodorant. Something, other brands in the space haven't achieved."
Currie and Coxon met in 2015 while working as performers in London's West End theatre district.
The pair set out to create a gender-neutral, natural deodorant to help them with their active lifestyles.
It took another three years of research and development before they had samples ready to hand out to friends at theatres.
They raised £50,000 in a 2018 Kickstarter campaign – well above their £15,000 target – to make 3,000 units.
However, it wasn't until the pandemic hit and the pair found themselves out of work as the industry went into lockdown that they officially launched AKT.
"When we both lost our jobs, we realised that we had to put all of our time and energy into AKT to survive," Currie said. "When we launched in May 2020, the reception just blew us away."
Priced at £18, AKT is targeted at the luxury end of the market, with three different fragrances.
"We wanted to create an earth-conscious, natural deodorant with high-end fragrances designed for all genders," Coxon added.