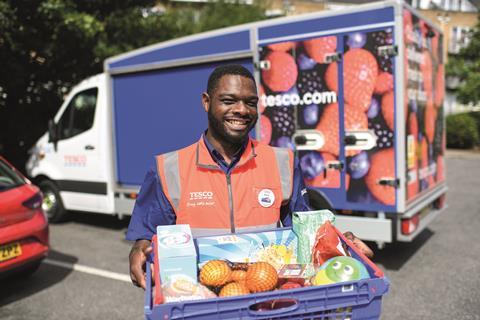 Top story
Tesco has fixed the issues plaguing its website and app over the weekend, with the online service back up and running again today.
The retailer's delivery services crashed on Saturday morning following a cyber attack, which Tesco described as an attempt "to interfere with our systems".
It is believed the attack was linked to Tesco.com's search functionality, but there has been no indication that customer data had been compromised.
The attack left customers unable to place online orders or change, cancel or track deliveries already made.
Tesco first indicated there was an issue on Saturday moring, sending out message on Twitter at 9:03am: "We're experiencing an issue with our website and app and are working hard to get things back up and running. We apologise for any inconvenience."
However, the website and app – which takes order of around £15m-£20m a day – remained down for the rest of the weekend.
On Sunday, Tesco admitted the disruption had been deliberate, with hackers attempting to compromise its systems overnight on Friday.
An update on Twitter yesterday at 6:21pm reported continuing disruption to the groceries website and app. "We're working hard to get things back to normal, and we're really sorry for the inconvenience," Tesco said in the tweet.
Tesco finally got the service back up and running just before midnight, but it was forced to use a virtual waiting room to manage high demand. Another tweet at 11:49pm said: "Our groceries website and app are back up and running. To help us manage the high volume we're temporarily using a virtual waiting room. We're really sorry for any inconvenience and thank you for your patience."
A Tesco spokesman said: "There is no reason to believe that this issue impacts customer data and we continue to take ongoing action to make sure all data stays safe.
"Since yesterday, we've been experiencing disruption to our online grocery website and app.
"An attempt was made to interfere with our systems which has caused problems with the search function on the site. We're working hard to fully restore all services and apologise for the inconvenience."
The issues over the weekend had little effect on investors, with shares trading 0.6% higher at 272.3p this moring.
Shore Capital broker Clive Black said the cyber attack had not changed his 'buy' rating on the supermarket, despite the "propensity for such attacks to often cost more than first indications often highlight".
"We sense that this has been a quite tightly controlled challenge for Tesco, which is clearly not of its doing as British business faces a challenge whereby the domestic authorities appear somewhat impotent to curtail and control matters, never mind seek justice," Black wrote in a research note this morning.
"We hope for Tesco's customers and shareholders alike that the disruption relates just to the weekend, no doubt if there is any greater operational and so financial impact that the group will update in due course.
"We would also expect Tesco's IT people to be advising senior management as to the necessary steps to further build resilience against a modern day scourge."
Morning update
The FTSE 100 climbed 0.4% higher to 7,229.65pts as markets reopened this morning on Budget week.
It has been a quiet start to the week for the food and drink industry, with no market news to influence shares.
Early risers included Glanbia, up 4.4% to €13.74, Hotel Chocolat Group, up 1.9% to 489.9p, and AG Barr, up 1.2% to 517p.
Losers so far include Bakkavor, Deliveroo and Premier Foods, down 3.4% to 117.8p, 1.2% to 270.3p and 1.1% to 110p respectively.
This week in the City
Newsflow picks up this week with a raft a results, trading update and an Autumn Budget.
Beleaguered THG will continue on its path to restore investor confidence this week, with a third-quarter trading update tomorrow. Tuesday is also the final day of share dealings in Morrisons following the shareholder backing for the CD&R takeover. Reckitt Benckiser also updates on its third quarter trading tomorrow morning.
GlaxoSmithKline report quarterly results on Wednesday, with Heineken updating on its latest numbers, while in the US, Coca-Cola, Kraft-Heinz and McDonald's all release updates. The latest BRC-Nielsen shop price index is also released on Wednesday.
Wednesday lunchtime will also bring the Chancellor's Autumn Budget statement.
On Thursday, Virgin Wines posts its finals and cider maker C&C Group releases interims, while there are third-quarter results from brewing giants AB InBev and Carlsberg. Over in the US, Amazon, Starbuck's, Hershey and Yum! Brands also update.
Friday brings a quarterly update from Colgate-Palmolive.