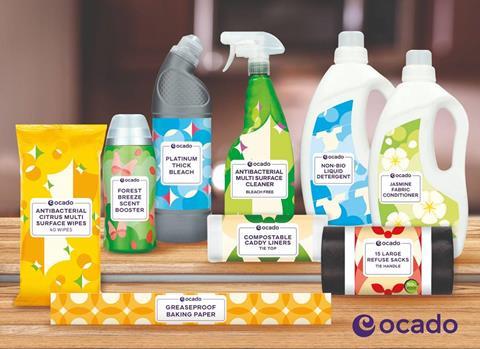 Ocado Retail has launched an own-brand household essentials range, which join the more than 500 own-label Ocado food products available on the online grocer's website.
The new range marks "the first time Ocado-branded products have covered all key household needs" Ocado said.
More than 70 essentials products have been added to the brand's own range, including bin liners, foil, cling film, laundry detergent and cleaning sprays.
"We are so excited that our customers are now able to buy an even wider range of Ocado-branded products on Ocado – from butter to bananas, and now bathroom cleaner too," said Rachel Cox-Reynolds, head of own brand and technical compliance at Ocado.
The new range delivers "high-quality, superb value and huge range of choice that our customers love us for, in a bold design that looks great in every home" she added.
Like the own-label food range, which went through a major packaging refresh in March, the packaging of the new range has been designed in collaboration with creative company Jones Knowles Ritchie. The packaging overhaul earlier this year saw plastic nets and adhesive labels removed from packaging, which together with other design tweaks prevented 27 tonnes of plastic and 10 tonnes of paper being sent to customer homes a year the company says.
The household range was likewise environmentally sound, Ocado Retail – a joint venture between Marks & Spencer Group and Ocado Group – added. It includes plant-based antibacterial wipes, 100% recycled and compostable refuse sacks, and non-PVC and recyclable cling film. All spray bottles and triggers in the range use recycled and recyclable materials.
Much of the range has been placed on an introductory promotion.
With bin bags of various sizes on a two for £5 offer, and a selection of caddy liners, cling film and baking paper on a two for £4 offer. The range includes "great value products" Ocado Retail said, highlighting Thick Platinum Bleach for 75p and Antibacterial Multi Surface Cleaner Spray for 80p.