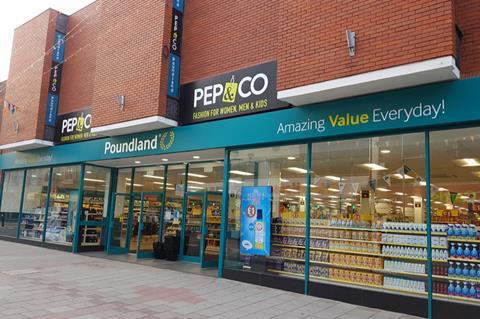 Poundland's sales and profits tumbled as shoppers stayed away from the high street in the pandemic, latest annual accounts have revealed.
Turnover for the year to 27 September 2020 was down 4.5% to £1.48bn, while operating profit plummeted from £26.7m to £8.6m.
At the bottom line, the variety discounter made a net £15.8m loss compared to £14.3m profit the year before.
"As an essential retailer we continued to serve our communities during these [lockdown] restrictions, however Covid-19 significantly adversely impacted customer footfall in our stores during the year and as a consequence both our turnover and profitability declined," the results explained.
However, like-for-like sales were "broadly stable" both during the period and on a two-year basis, according to the acounts. "In total sales declined by 4.3% in the period and declined by 3.0% on a two-year basis," the accounts added.
Poundland's UK and Ireland estate shrank by 13 stores to 825, with the opening of 19 and the closure of 32 loss-making or underperforming branches.
Poundland has been pushing for lower rents during the pandemic as leases come up for renewal, a drive that continues, according to the accounts.
"The directors believe there is a significant opportunity to expand operating margins through continued reduction of rents in our existing stores and during the year we have again been successful in doing so when renewing leases," the accounts said.
The period saw Poundland expand its ranges in grocery, household and health & beauty, along with "most significantly" rolling out chilled and frozen food supplied by Fultons to 80 stores. The acquisition of Fultons in October meant Poundland could accelerate its entry into a market worth £13bn, with over 400 stores to gain frozen and chilled during the next two financial years, the accounts said.