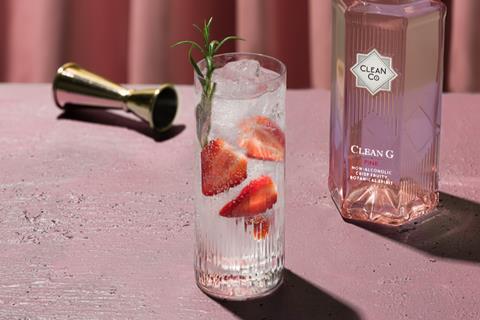 CleanCo, the non-alcoholic spirits brand founded by Made in Chelsea star Spencer Matthews, is jumping on the pink drinks bandwagon.
It has launched a pink version of its core non-alcoholic gin alternative, called Clean G Pink (rsp: £16/70cl).
It had "a luscious lead note of strawberry, with a pink peppercorn kick", said the brand, with a "complementary combination of mixed red berries", which made for "an easy and elegant summer cooler".
The brand is touting Clean G Pink's health credentials: as well as being vegan and sugar-free, it contains 13 calories per 50ml serving.
Shoppers had a "real penchant for the sweeter taste of a pink gin, which is a joy to drink, as not only does it taste delicious, but it also looks great for social sipping", said Matthews.
It's the latest in a series of major moves from the brand, which debuted in 2019 as Clean Liquor Co but rebranded to CleanCo last autumn. Its range has swelled quickly and now comprises a mass of SKUs including a core trio of Clean G, Clean R and Clean T as well as flavoured launches Clean G Rhubarb and Clean V Spiced Apple.
It has proved an attractive option for investors since launch: in January this year pulled in a £7m cash injection from the likes of former Diageo executive Ursula Burns and digital-first investment firm Stonebridge, which is advising CleanCo on its growth plans.
Prior to that, in 2020, it netted £2.1m through a funding round led by investment firm Lightspeed Venture Partners.
William Reed – the publisher of The Grocer – runs a trade show exclusively for the low and non-alocholic drinks industry. For more information, visit low2nobev.com.