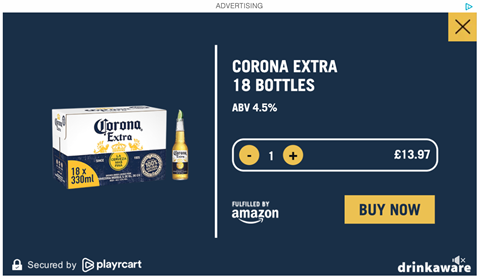 AB InBev is trialling new online advertising tech that allows consumers to order directly from banner ads.
Banner adverts for Corona beer are now live, which allow internet users to select quantities of 18-bottle crates, enter their delivery address and pay within the ad and without leaving the web page they are browsing. Orders are fulfilled by Amazon.
The patent pending technology behind the new ads has been developed by UK startup Playrcart. The technology allows transactions to be made within a range of media assets including video, gifs and live streams.
The startup said its technology "significantly reduces the amount of clicks it takes to arrive at checkout and offers an immediate purchase option when the customer's emotional response to an ad is at its strongest – within the asset itself".
Playrcart pitched its technology at the drinks giant's innovation event Mad/Fest, which it won.
"We feel their solution offers unique benefits as a progressive D2C transactional ad technology that we are excited to trial on both sides of the pond," said Daniel Turcotte, AB InBev global innovation manager.
Playrcart technology is also being trialled by the Walgreens Boots Alliance skincare brand Liz Earle. Initial findings show the clicks required to make an online purchase after consumers first see the advert reduced by 72%.
"At Liz Earle Beauty Co we know that having a convenient way to shop is really important to consumers," said Liz Earle UK marketing director Katie Swift. "We recognise that the current climate requires brands to take a fresh look at how to best reach and service new customers, and see the in-ad purchase technology offered by Playrcart as a way of driving trial in a uniquely engaging and user-friendly way.
"Now more than ever this technology feels highly relevant, and we are looking forward to seeing how it opens up a new opportunity for brands and customers alike," Earle added.
Playrcart was founded in 2014 by Glen Dormieux and the technology developed with CTO Richard Mason. The solution was "born out of frustration with advertising assets that could only do so much or redirected consumers on a long purchase journey via the brand owners' websites" the company says. Last month the startup announced it had raised over £1m in funding, and appointed WCRS co-founder and former CEO of Aegis, Peter Scott, as chairman.
"What persuaded me to initially invest was the sheer size of the market opportunity, patentable tech and the absolute belief and commitment of Glen and Richard," Scott said at the time.
"We're in discussions with some very exciting brands, and our aim now is to make this a global application, and do so quickly," Scott added.