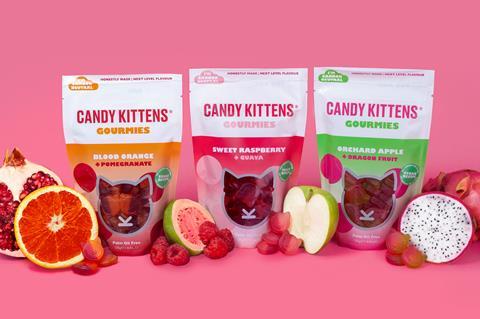 Candy Kittens is moving into gummies with a trio of 'Gourmies' designed to tap "grown-up palates".
They are: Orchard Apple & Dragon Fruit, Sweet Raspberry & Guava, and Blood Orange & Pomegranate. They are made with real fruit juices and no artificial colours, and are sold in recyclable packs.
The treats were "created with exotic fruits to provide a tantalising and satisfying experience" and spoke to "millennial-backed trends within the food and drink sector", said the brand, which had "seen novel and hybrid flavours gaining popularity".
They would appeal "to an even larger demographic of consumers thanks to their unique texture that puts Candy Kittens toe-to-toe with the category's big boys", it added.
The brand "set out in 2012 to shake up the category and I'm excited to broaden that challenge with our first sub-range – a vegan sweet that doesn't compromise on texture or taste like so many others", said co-founder and MD Ed Williams.
The NPD "gives us everything we love about the traditional gummy sweet, delivered in our signature gourmet style", he added.
The sweets launched via the brand's online store on 31 August, and would shortly hit Ocado, Waitrose, Sainsbury's and Tesco too, said Candy Kittens (rsp: £2/125g).
Candy Kittens isn't the only confectionery brand expanding into gummies. Skittles, too, made its debut in gummy sweets last month with a new range called Squishy Cloudz, which it said "defies the standards of identity by combining a gummy and marshmallow".