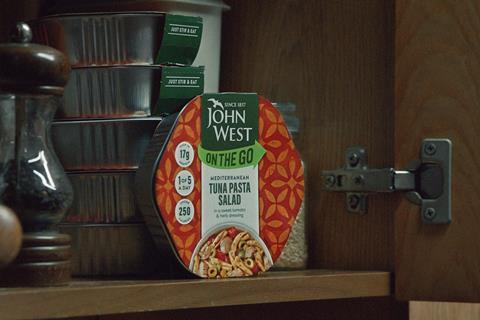 John West has overhauled its branding and visual identity as it seeks to reposition itself as a health and nutrition brand.
Through the new tagline 'Eat strong, go strong' and a modernisation of the appearance of its products, the seafood brand said it hoped to entice younger shoppers and to delineate a connection between canned fish and both physical and cognitive health.
Supported by a primetime TV ad campaign featuring a girl being supported by John West products throughout her everyday life, the repositioning will also feature in-store and gym activations.
It is set to 'hero' key ranges such as John West's On The Go salads and Fridge Pots and will see NPD launches of low-salt and nutrient-enriched tuna variants in the coming weeks and months.
The move marks a departure from John West's previous brand identity, which focused on its heritage and sourcing. The company said it was prompted by a 2020 report from Smartbrief, which found 29% of people were consuming more functional foods and beverages than before the pandemic.
"The old positioning was focused on the 'what'," said John West MD Paul Stephenson. "You had pictures of fishing boats and it was very much saying it was fish in a can rather than why that [product] should work for you and how these solutions help you to live your life.
"Hopefully we can attract younger consumers who haven't appraised the brand before. We just want to come out with something distinctive that resonates with more people."
Stephenson added that he hoped the move would also make it easier for shoppers to navigate what he described as an "overwhelming category" in the mults.
"It's quite difficult to navigate that fixture," he said. "Rather than [having] the wrong messaging, there's just been a lack messaging. We're working with retailers to make it a more engaging, simpler shopping experience and to draw consumers [to ambient aisles]."
It comes after a challenging first year at the helm of the brand for Stephenson, who was appointed in May 2020.
Due to the spike in demand for canned goods in the initial panic-buying and lockdown phase of the Covid-19 pandemic, John West's supply chain effectively sold out of stock.
"The [canned fish] category has a long supply chain, so if you clear [it] out, which is pretty much what happened across the board, it takes a number of months to get product back in," he said. "Seasonal products caught once a year or products produced near the equator have got long lead times which means, if you do get disruption to supply, it takes the heat out of category growth.
"The warehouse has a nice amount of stock in it now but there are pictures from last April when the warehouse was literally empty. It took a long time to replenish. It's a category constraint, not a John West constraint. He who had the most stock was the biggest winner in those early stages of the pandemic."
Stephenson added there had been challenges with factory shutdowns before vaccines had become available, while Brexit had also created difficulties for its Irish business.
But he said there was a "huge opportunity to grow the category" in future.