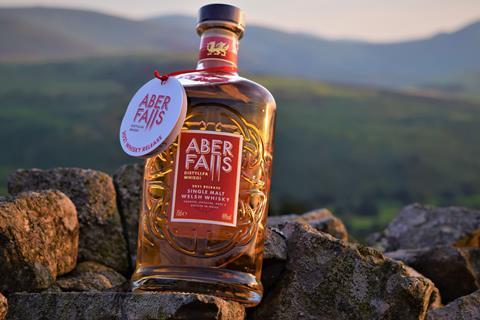 Halewood-owned Welsh whisky distillery Aber Falls has unveiled a 2021 expression of its single malt.
The three-year-old whisky (40% abv) is distilled in a mix of copper pot and stainless steel stills, and includes a mix of oloroso sherry casks, PX sherry casks, bourbon casks and virgin oak casks, which the brand said gave it a "totally unique flavour".
The liquid was "deep amber gold" with "an aroma of sweet fruit with a hint of clove" and "a rich and full-bodied palate with sweet shery notes, dark chocolate and espresso" with "a long and lingering finish of dried fruit and subtle spice", it added.
"In particular, the two sherry casks used for this single malt have provided a very enjoyable flavour that we're incredibly proud of," said Aber Falls master blender Kirstie McCallum.
The drink has rolled into Welsh Tesco stores and Master of Malt online (£26/70cl).
It comes after the brand launched its first ever single malt whisky last year, which sold 2,000 bottles in its first 40 minutes when released, said Aber Falls MD James Wright.
"We're a distillery that proudly produces 100% Welsh whisky, capturing the Welsh craft and heritage in every bottle," he said. "As a result, our products are extremely sustainable, enabling us to benefit Wales at every stage of production, including returning any waste ingredients to local farms for use as fertiliser or cattle feed."
Halewood first kicked off work on the Aber Falls distillery, in Abergwyngregyn, in 2017. It is the first major whisky distillery in the region to have opened its doors in the past 100 years.
Because of the amount of time needed to age whisky before it can be sold (or labelled) as such, the brand made its debut in the latter part of the last decade with a range of posh flavoured gins.