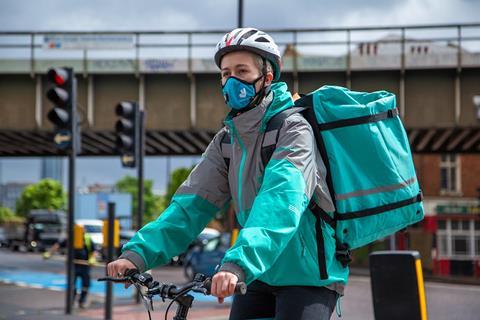 Top story
Deliveroo has grown ahead of expectations in 2021 as demand for the delivery service proved resilient even with Covid restrictions easing. However, the group still posted a large loss for the first half of the year.
Revenues in the six month to the end of June shot up 82% to £922.5m thanks to gross transaction value (CTV) more than doubling to £3.4bn, driven by an increase in monthly active consumers year on year.
Growth in GTV slowed in the second quarter as pubs and restaurants began to reopen after lockdown, but the figure increased 81% between April and June and by 131% in the first quarter. Deliveroo said consumer engagement post-reopening had been "encouraging", especially considering the increasingly tough comparison base.
GTV in the UK and Ireland rose 110% in the half, while international growth was slightly slower at 95% as reopening from lockdowns happened at different times around the world.
Despite the strong growth in the period, Deliveroo made a pre-tax loss of £104.8m, albeit an improvement on £128.4m a year ago. Adjusted EBITDA loss totalled £27m, up from £30m in 2020, as the group continued to invest more to support growth.
Founder Will Shu said it was a strong performance in the first half and the company continued to make good progress in executing its strategy.
"As a result, I believe that we are well positioned to take advantage of the huge opportunity ahead.
"We are seeing strong growth and engagement across our marketplace as lockdowns continue to ease. Demand has been high amongst consumers. We have widened our consumer base, seen people continuing to order frequently and we now work with more food merchants than any other platform in the UK. At the same time, more riders are choosing to continue to work with the company because they value the work we offer.
"As reflected in our guidance, whilst we expect that consumer behaviour may moderate later in the year, we remain excited about the opportunity ahead and our ability to capitalise on it."
Deliveroo expects full-year GTV growth of 50-60%, which is higher than previous forecasts of 30-40%.
After surging earlier this week, shares fell back 0.8% to 360.1p as markets opened this morning. However, the stock is still 8.4% higher overall this week after it was revealed Germany's Delivery Hero had quietly built a 5.1% stake in the company since April. Shares in Deliveroo have been steadily climbing back towards the IPO price of 390p since May.
Morning update
The increasingly heated takeover battle for pharma company Vectura will not head into a rare auction process after US PE suitor Carlyle refused to put in a higher bid.
Earlier this week, the City's Takeover Panel had ordered an auction to take place after tobacco giant Philip Morris put in an increased offer of just more than £1bn for the business.
However, last night Carlyle said it would not raise its offer again from the 155p-a-share bid made last week, valuing the inhaler developer at £958m, which it added was "full and fair".
Simon Dingemans, a managing director in Carlyle's European buyout advisory group, said the firm believed the offer was "in the best interests of the business and its stakeholders, including its employees, partners and customers, as well as, most importantly, the patients it serves and helps to provide with effective and accessible medicines".
The auction will now not go ahead and Philip Morris has until 5pm tomorrow (12 August) to announce a revised offer.
Vectura said in a statement to the London Stock Exchange this morning that it would make a further announcement following the expiration of the Takeover Panel deadline, or sooner if Philip Morris came in with another offer.
The Marlboro cigarette maker, along with Vectura's board, has attracted a barrage of criticism, with health bodies and politicians up in arms about a tobacco firm owner a developer of medicine to treat lung diseases.
Shares in Vectura are up 0.2% to 163.8p this morning.
The FTSE 100 started the day with a moderate 0.2% rise to 7,173.84pts.
Early risers include Science in Sport, up 2.6% to 79p, Nichols, up 2.4% to 1,43.6p, and Virgin Wines, up 1.6% to 223.5p.
Hotel Chocolat Group started the day down 3.1% to 363.5p, while Bakkavor Group was down 1.6% to 118p and Stock Spirits Group fell 1.5% to 261.5p.
Yesterday in the City
The FTSE 100 climbed 0.4% higher to 7,161.04pts yesterday.
Hellofresh shares surged 9.2% to €83.88 following news of continued strong growth in the face of easing Cobvid restrictions. The meal kit provider reported sales had reached a quarterly high of €1.6bn, up 67% year on year.
There wasn't much market news to drive share movements yesterday, but other risers included Deliveroo, which soared another 7% to 363.7p ahead of this morning's interims.
Fallers included Science in Sport, down 2.5% to 77p, B&M European Value Retail, down 0.7% to 561p, and Finsbury Food Group, down 1.1% to 94p.