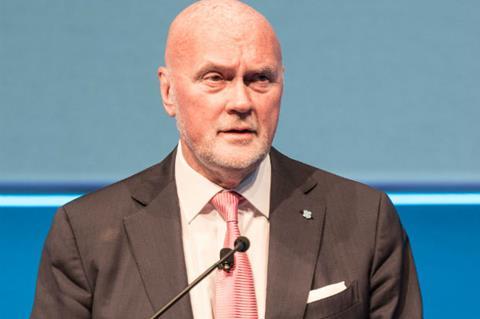 BrewDog has hired Co-op chairman and former Asda CEO Allan Leighton as an independent non-executive chairman.
Leighton, who has held numerous high-level roles across the fmcg sector including as head of the Leeds-based retailer from 1996 to 2000, has joined the board of the brewer.
Taking up the role of chairman, he would "act as a mentor" to BrewDog CEO James Watt, said BrewDog, offering "experienced counsel on leadership and governance matters as the company enters its next phase of growth, in particular expanding its international footprint".
The move comes as just last week BrewDog unveiled a partnership with Japanese megabrewer Asahi to create BrewDog Japan, a jv that will operate as a standalone entity in Japan, taking BrewDog into what it hopes will be a lucrative new market.
Leighton said BrewDog had "built an incredible market position and brand in a short space of time. It continues to grow quickly all over the world, has a fantastic team of people, and an outstanding sustainability story to tell."
During his time at the helm of Asda, Leighton led a successful revival of the retailer, which was flatlining and laden with debt when he took over. His term culminated in its sale to Walmart in 1999 for £6.7bn.
He will replace Blythe Jack of American private equity firm TSG Consumer Partners, which owns a 22% stake in BrewDog. Jack was parachuted in as chairwoman earlier this year after the brewer was rocked by accusations it was a "toxic" workplace with a "culture of fear" in an open letter to the company published online by a group called Punks With Purpose.
She will remain on the board of the company and would continue to oversee a review of its culture, as promised in the wake of the accusations.
The review was "of huge importance to BrewDog and to the board as we continually strive to be the best organisation we can be", said Jack.
BrewDog CEO James Watt said Leighton would bring "immense experience and a phenomenal track record to BrewDog".
"I have no doubt we will all benefit from his insight and leadership," he said. "As we continue to build our business and implement a range of initiatives to become the best business we can be, Allan's mentorship and personal guidance will be invaluable.
"I would like to thank Blythe for her continued support. Her advice has been hugely appreciated and I am so pleased she will continue to sit on the board."
It comes as The Grocer recently revealed BrewDog could be poised to move into the soft drinks category after applying to register 'SodaDog' as a trademark with the Intellectual Property Office.