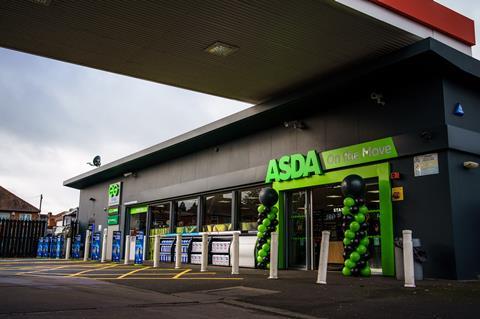 Asda has confirmed plans to open hundreds of convenience stores on EG Group forecourts.
Twenty-eight 'Asda on the Move' stores will open on EG Group forecourts this year, with a target of 200 by the end of next year and more in 2023, Asda said in its quarter-two trading update today.
It follows a trial of the format that has seen five Asda On the Move stores open on EG Group forecourts since last October.
The rollout is to begin next month, with sites opening in Knowsley, Crewe, Skelmersdale and Holtspur. Asda will supply the products in a wholesale agreement to EG Group, which will own and operate the stores.
Each will be up to 3,000 sq ft in size, stocking up to 2,500 products, including a "more extensive range of fresh produce and chilled lines than is traditionally found on fuel forecourts", Asda said. The stores will also sell Asda's 'Extra Special' premium range as well as foodservice offerings from EG Group and its partner brands such as Greggs and Subway.
EG Group owners Mohsin and Zuber Issa, along with private equity firm TDR Capital, acquired Asda in a £6.8bn deal last year, and gained the Competition & Markets Authority's seal of approval in June.
The billionaire brothers hope to broaden Asda's customer base through the new convenience format.
"Our plans to roll out Asda On the Move will bring Asda to new customers, enabling them to pick up food-to-go, essentials for an evening meal, or treat themselves to premium Extra Special products from a range of convenient locations," the brothers said in a joint statement.
"We continue to see significant opportunities to drive innovation across the business and we look forward to working with the Asda team to execute our growth strategy."
Asda's like-for-like sales excluding fuel were down 0.7% in the three months to 30 June "compared with the exceptional sales" in the same period last year, the trading update said.
Compared with the same period in 2019, like-for-like sales growth excluding fuel was "strong" at 3.1% as more meals continued to be eaten at home. Like-for-like sales of the Extra Special range were up 23% over the two-year period.
Online demand had eased along with lockdown restrictions, but the channel remained popular, accounting for 17% of total food sales during the quarter compared with 10% in quarter two of 2019.
Like-for-like clothing and general merchandise sales were up 1.4% compared with the same period in 2019, driven by general merchandise, which grew 9.6% on a two-year basis.
Asda chief finance officer John Fallon said: "As customers responded to the gradual easing of social distancing restrictions, we inevitably saw sales soften compared to the exceptional lockdown-driven demand experienced during the first quarter.
"Nevertheless, the continued resilience our business has been demonstrated in the positive like-for-like sales growth compared with the same period in 2019, as we were able to take advantage of a higher level of in-home consumption, satisfying customers' needs across both food and non-food."
The Issa brothers said: "The Asda business has proved incredibly resilient in 2021, as customers continue to eat more at home and enjoy food which is both fantastic quality and great value."
Asda also announced that COO Anthony Hemmerdinger and strategy officer Preyash Thakrar had left the business.
Meg Farren is soon to join from KFC as chief customer officer.
Earlier this year Asda appointed Sam Dickson, from Waitrose, as VP of own brand, and Carl Dawson, from M&S, as chief information officer.