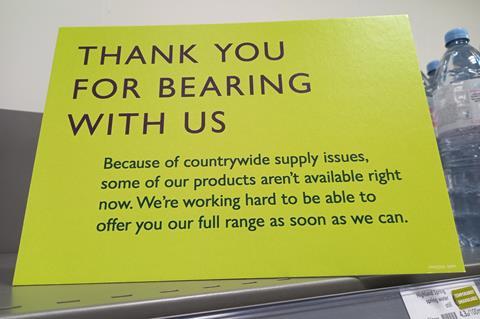 The food and drink industry's hopes of convincing the government to bring in temporary visas to ease the driver shortage appear to have been dashed.
The government has rebuffed numerous calls over the past few months for drivers to be added to the skills shortage occupation list from supermarkets and suppliers, and has done so again this week despite a new report showing the food and drink industry is struggling to cope with around half a million vacancies.
The food industry had hoped the report, titled 'Establishing the labour availability issues of the UK Food and Drinks Sector', would provide the compelling evidence needed to convince government to review its post-Brexit immigration policy. The report was compiled by Grant Thornton on behalf of the NFU in conjunction with 11 other trade bodies including the FDF; FWD; the Cold Chain Federation; UKHospitality; and the Road Haulage Association.
However it has been dismissed even before ministers would agree to a meeting with the trade bodies in order to discuss the findings.
The trade bodies argue the labour shortage is the key factor contributing to empty supermarket shelves, and a shortage of food and drink at major fast food and pub chains.
The Grocer also reported last week schools were being warned to prepare for shortages ahead of the new term.
A spokesman for Defra told The Grocer it understood the UK's food and drink sector to be "highly resilient". It had already rolled out a "package of measures" to help tackle the HGV driver shortage, he said. "We want to see employers make long-term investments in the UK domestic workforce instead of relying on labour from abroad, and our Plan for Jobs is helping people across the country retrain, build new skills and get back into work."
NFU VP Tom Bradshaw said: "Businesses across the country have put significant time and resource into local recruitment efforts but have simply not found enough workers willing or able to take up available roles on farms and across the supply chain.
"The labour crisis we face is happening right now. The supply chain needs urgent action from government to mitigate this labour shortage and we remain of the view that a temporary 12-month Covid-19 recovery visa is the best way to alleviate this immediate pressure."