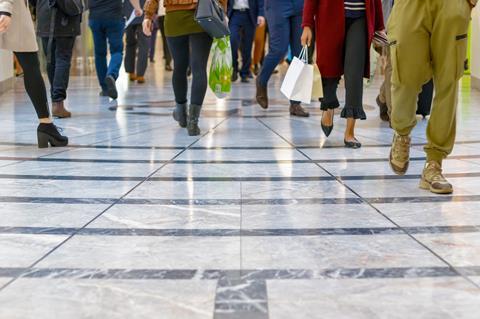 Top story
Retail sales continued to grow in July as Covid restrictions eased, but the pace of growth slowed as the reopening of pubs and restaurants dampened spending in shops.
On a total basis, sales increased by 6.4% in July, against a growth of 3.2% in July 2020.
However, this is below both the 3-month average growth of 14.7% and the 12-month average growth of 10.4%.
On a 2-year basis, total retail sales were up 9.1%.
Total UK retail sales increased 4.7% on a like-for-like basis from July 2020, when they had increased 4.3% from the preceding year – again below the 3-month average growth of 9.7% and the 12-month average growth of 11.1%.
Over the three months to July, in-store sales of non-food items grew 64.9% on a total basis, but saw a 3.6% decline on a two-year basis.
Food sales were up 2.9% over the three months on a total basis and 0.8% on a like-for-like basis, which was down on the average 12-month growth of 5.6%. For the month of July, Food was in growth year-on-year.
Over the three-months to July, total non-food retail sales increased 24.6% on a Total basis by and 17.6% on a like-for-like basis, with growth of 12.5% on a two year basis.
Online Non-Food sales increased by 0.6% in July, against a growth of 41% in July 2020.
BRC CEO Helen Dickinson commented: "July continued to see strong sales, although growth has started to slow. The lifting of restrictions did not bring the anticipated in-store boost, with the wet weather leaving consumers reluctant to visit shopping destinations.
"The vacancy rate is continuing to rise. Many shops and local communities have been battered by the pandemic, with many high streets in need of further investment. Unfortunately, the current broken business rates system continues to hold back retailers, hindering vital investment into retail innovation and the blended physical-digital retail offering. The Government must ensure the upcoming business rates review permanently reduces the cost burden to sustainable levels. Retailers want to play their part in building back a better future for local communities, and Government must give them the tools to do so."
Paul Martin, UK Head of Retail at KPMG, added: "Retail sales continued to grow in July, although at a slower rate as the reopening of the hospitality and leisure sectors led to a dilution in consumer spending.
"Whilst the high street saw continued growth in July, unsurprisingly online sales fell back. Both women's and men's clothing continued their revival with strong growth in-store and online. Many other non-food categories had a less strong performance, especially those related with the home after the house moving frenzy of recent months started to abate
"Over the coming months the health of the sector is expected to grow at a much slower rate as retailers face increasing challenges on a number of fronts. Staffing pressures, increases in commodity and component costs, rising inflation eating into households' spending power and stalling consumer confidence could lead to a slowdown in retail sector growth as we head into autumn."
Susan Barratt, CEO of IGD, commented: "UK food and drink sales returned to growth in July, following several months where sales struggled to match the high peaks of sales generated post-Easter in 2020. As well as the Euro 2020 football tournament, the UK experienced two exceptional weeks of hot weather in July, providing ample opportunities for shoppers to celebrate with food and drink.
"However, while sales were boosted in July, looking forward there are many challenges to overcome. The UK's K-shaped recovery persists; IGD's ShopperVista insight reveals higher income groups believe they are more likely to be better off financially (23%) than worse off (20%) in the year ahead. In contrast, lower income groups are more likely to believe they will be worse off (23%) than better off (15%). Furthermore, shoppers are increasingly concerned about food and grocery price inflation, with 16% of shoppers expecting that prices will get much more expensive in the year ahead, up from just 8% of shoppers in April'21."
Morning update
HelloFresh continued to post strong top-line growth despite the reopening of the leisure and hospitality sectors, but warned that full year earnings would be lower than current expectations due to continued investment in growth.
In the second quarter of 2021 HelloFresh's revenue reached a quarterly-high of €1.56bn, up 66.5% y-o-y in constant currency.
It saw continued high order rates with 30.98m orders in the second quarter, and increased of 71.2% year-on-year, and reaching 7.7m customers.
Adjusted EBITDA reached €157.8m, up 2.7% year-on-year, corresponding to an adjusted EBITDA margin of 10.1%
CEO Dominik Richter said the quarter represented "a strong success for HelloFresh".
"We delivered very meaningful growth across both segments, despite a tough benchmark, given that Q2 2020 was probably the peak lock-down quarter."
"We have made further strong progress in ramping up our production capacity and infrastructure globally, while launching Norway as a new market, bringing Green Chef as an additional brand to the UK market and extending our HelloFresh Markets offering of high quality curated add-ons to the US.
"We are laying the foundations for reaching our mid-term revenue target of €10 billion revenue and charging towards becoming the leading global food solutions group."
The company said its plans to ramp up its production capacity are on track with the opening of two new fulfilment centres in Irving, Texas and Abbotsford, Canada in Q2 2021 and the announcement of three further fulfilment centres in the US, Australia and Germany which are set to start operations in the course of 2021 and 2022.
Looking forwared, it said that, based on the company's strong growth performance year-to-date, the board has increased its full year 2021 revenue growth outlook on a constant currency basis from previously between 35% and 45% to now between 45% and 55%.
Based on current exchange rates, this would translate into a Euro-reported revenue growth of approximately three to four percentage points lower than the revenue growth on a constant currency basis.
However, it said given the stronger than initially anticipated growth in 2021 and to be well prepared for 2022 and beyond, it is accelerating the ramp-up of its production capacity and therefore planning higher than initially anticipated fulfilment expenses in 2021, primarily due to initially lower productivity and underutilisation in new production sites.
In addition, the company is further accelerating the growth of key functions, especially of its technology and data teams.
This continued investment, to "achieve its midterm growth ambition", means the company now expects a full year 2021 adjusted EBITDA margin for the HelloFresh Group between 8.25% and 10.25% compared to previously between 10% and 12%.
HelloFresh shares are up 3.6% today to €79.56 after the share price fell on Friday when the top-line figures were pre-released.
On the markets this morning, the FTSE 100 is flat at 7,134pts.
Risers include Deliveroo, up 3.6% to 351.9p, Nichols, up 3.2% to 1,445p and Wynnstay, up 1.5% to 599p.
Fallers include McColl's, down 1.8% to 29p, Greencore, down 1% to 129.7p and Naked Wines, down 0.6% to 859p.
Yesterday in the City
The FTSE 100 started the week edging up 0.1% to 7,132.3pts.
Shares at Deliveroo hit their highest level since its IPO back in March on news that German rival Delivery Hero have purchased a 5.1% stake in the company. The shares ended the day 4.5% higher at 339.8p, but had jumped as much a 10% during trading today, hitting a peak of 358.3p.
Other risers yesterday included Wynnstay, up 3.5% to 590p, SSP Group, up 1.5% to 250.7p, Hilton Food Group, up 1.5% to 1,108p, Hotel Chocolat, up 1.4% to 375p, PZ Cussons, up 1.2% to 248p, Greggs, up 1.1% to 2,892p and Pets at Home, up 1% to 469p.
The day's fallers included McColl's, which dropped 15.7% to 29.5p after it confirmed it is exploring options to raise fresh funds to increase the number of its Morrisons Daily c-store conversions and accelerate the pace of the roll-out of the programme.
Other fallers included Nichols, down 2.8% to 1,400p, Bakkavor, down 2.5% to 117p, Science in Sport, down 2.5% to 79p, Kerry Group, down 2.4% to €122.50 and McBride, down 2.3% to 87p.