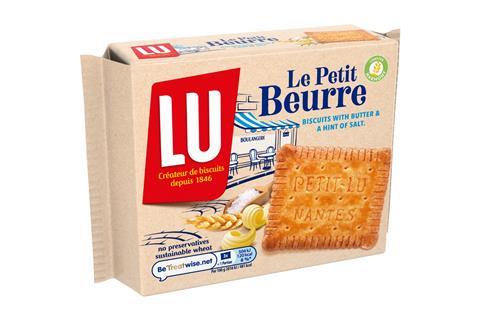 Mondelez is bringing its French biscuit brand Lu to the UK.
Four SKUs – Le Petit Chocolat, Le Petit Beurre, Le Petit Biscotte and Le Petit Citron – will roll out, offering customers the "quintessential taste of France to enjoy at home" (rsp: £1.50/140g-200g).
Made with "simple, authentic ingredients" and inspired by traditional French recipes, just one bite would "transport customers to a sun-dappled square in rural Provence", said Lu.
Le Petit Beurre is a modern take on the brand's first-ever biscuit, Véritable Petit Beurre, whose oblong shape took inspiration from French tea mats used in 1880s, when the brand was founded.
Le Petit Chocolat combines the biscuit with an "indulgent" layer of milk chocolate, while Le Petit Citron is billed as having a "delicate lemon flavour".
Finally, Le Petit Biscotte paired the flavour of brown sugar and cinnamon with a rich, crunchy texture, said Lu.
Lu senior brand manager Charlotte Parkes said the four-strong range was "sure to be a hit with biscuit lovers in the UK".
"Each with their own irresistible flavour, these recipes have more than stood the test of time," she added.
It's the latest in a flurry of NPD activity from brands hoping to shake up the biscuits category.
Last month, Ferrero expanded its Kinder brand into biscuits with a new range of Cards wafers.
In May, Pladis launched a Jaffa Cake-doughnut hybrid to "push the boundaries when it comes to what 'should' take pride of place in the biscuit aisle".