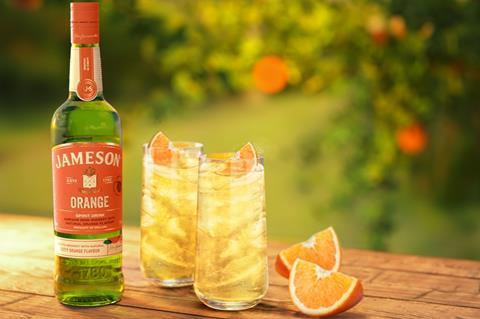 Jameson is making a major move into flavoured spirits with a new, lower-alcohol, orange whiskey-based drink.
Jameson Orange rings in at 30% abv – meaning it is not officially deemed a whiskey – and is infused with orange flavouring (rsp: £23.95/70cl).
It is billed as a "deliciously smooth, naturally zesty, subtly sweet and perfectly balanced expression", and would introduce "a modern, low-sugar twist to the growing flavoured spirits category", said owner Pernod Ricard.
Flavoured spirits launches accounted for 95% of NPD volume in the on-trade and had driven 80% of all off-trade spirits NPD sales in the past two years, it added. "Orange has also been one of the key growth flavours in the past three years and over one quarter of consumers typically drink orange flavoured serves."
Pernod added it hoped to attract millenial and gen Z shoppers with the launch. "We're confident that this focus on taste and quality will appeal to a broad audience of whiskey fans, bartenders, and curious spirit drinkers looking to explore and experiment," said its commercial director Ian Peart.
The brand is recommending the drink be served over ice with lemonade and a wedge of orange, or to "enrich" cocktails such as the Espresso Martini or Whiskey Sour.
The NPD will be backed by a campaign spanning digital, social and video on demand, as well as off-trade, on-trade and e-commerce activity.
The drink will roll into Tesco from 30 August ahead of Watrose and Amazon in late September and Sainsbury's from late October.