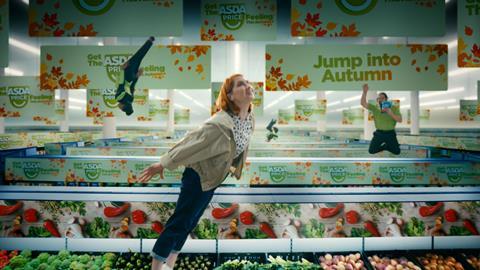 Asda has launched a new slogan – 'Get the Asda price feeling' – as part of a television ad campaign airing this month.
The new tagline "aims to showcase that Asda price means more to customers than just great-value products" the supermarket said.
The 40-second TV commercial will air tonight on ITV, Channel 4 and Channel 5, and play tomorrow during the Hungary vs England World Cup qualifier on ITV.
The campaign will also be seen and heard on radio, print, social, customer emails and in Asda stores.
"When our customers talk about Asda price, it goes without saying that that they are talking about great value, but we know they are also talking about great service, great-quality products and great colleagues," said Preyash Thakrar, Asda's chief customer officer.
"'Get the Asda price feeling' encapsulates all of that, and describes how we can help make a difference to our customers, communities and colleagues every day," he added.
The supermarket said the new tagline replaces the retailer's current 'That's Asda price' slogan.
The advert follows a family being met by an Asda colleague as they enter a store. The colleague signals to turn up Asda Radio which is playing Boston's More Than a Feeling, before somersaulting down an aisle of produce and launching herself into the air. A voiceover questions "why step into autumn when you can jump in?", and the family leaps into the air – while store workers acrobatically stock shelves.
The supermarket's famous pocket tap "brings things back down to earth – literally" the supermarket said, as the voiceover highlights trolleyfuls of low prices and rollbacks across the store.
"September is traditionally a time of year when our customers are settling back into a routine after the summer – they enjoy more nights in as the winter months draw closer, and start thinking ahead to the festive season. 'Get the Asda price feeling' puts the fun back into routine, showing that great products and great prices come hand in hand at Asda," Thakrar said.
Havas London was the creative agency behind the latest campaign. Chief creative officer at Havas London Vicki Maguire said the supermarket was "a brand with personality by the trolleyful".
"We wanted to unlock that by treating the store as a stage, vividly bringing the 'Asda price feeling' to life to help an iconic brand get its mojo back. This is shamelessly fun, feel-good advertising, and we're so excited to see where this creative platform takes us," Maguire said.
The ad also features the face of Gino D'Acampo, who is launching a range of 60 products in Asda stores this month, across frozen, chilled and ambient aisles.