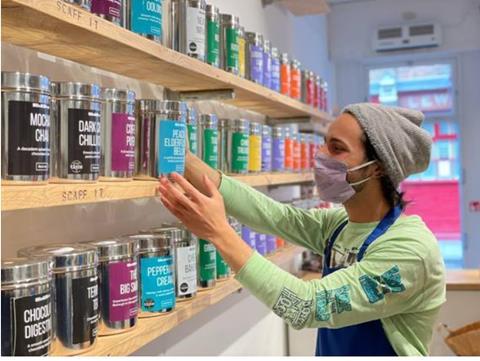 Bird & Blend Tea Co has flown past a £300k crowdfunding target in just two days as it looks to expand its retail estate further.
The round on Crowdcube valued the business, formed in 2013 by Mike Turner & Krisi Smith, at £18m, with more than 1,200 investors pledging almost £670k at the time of publishing on Thursday afternoon, with 21 days left until the campaign closes.
Bird & Blend – formerly known as Bluebird Tea Co until a name change – has grown from packing tea in a bedroom and selling at market stalls to operating 13 stores across the UK. Its DTC website also offers a range of more than 100 blends of tea, as well as gift boxes, experiences and monthly subscriptions.
Its teas are also supplied to a number of wholesale partners, including independent business, cafes, hotels and restaurants.
Revenues have grown to £4m in the 2021 financial year, up 221% since a 2017 crowdfunding round, which raised £364k and valued the business at £2.2m.
Digital sales also increased by 143% year on year during the Covid pandemic.
Two new 'experiential, multisensory' stores are set to be opened in Glasgow and Exeter soon, with the money raised in the crowdfunding round to help fuel an opening programme of four new sites a year.
"Bird & Blend is first and foremost a retail company, because we believe in the importance of local communities, the high street and people-led experiences," Turner told The Grocer.
"Even in the current climate and tough retail conditions, this has not changed, and we are bucking trends by thriving on the high street, with five new stores opening since lockdown last year, a new website and new warehouse in Worthing."