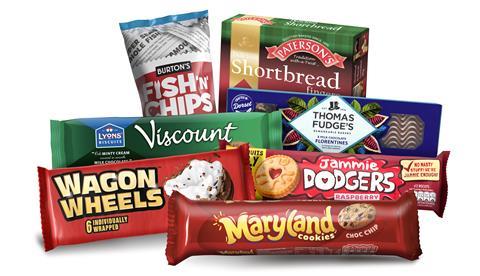 Burton's Biscuit Co saw a double-digit sales jump last year as soaring exports and strong grocery retail performance mitigated closures in the food service sector.
For the year to 26 December 2020 Burton's Biscuits, which was bought by Ferrero for around £300m in June, grew total sales by 11.5% to £274.9m
Core brands saw strong growth, with Maryland Cookies up 9% and Jammie Dodgers up 7%, while it also picked up a number of new own-label accounts. Within the sweet biscuit market Burton's grew its share of branded sales above 5%.
The accounts state that the group suffered a drop in food service revenues, but these were more than mitigated through traditional grocery sales. Excluding food service, total revenues were up 12%.
Overall growth was supported by significant growth in international sales, which were up 22% year-on-year, having extended its footprint to North American and Australia.
Chief Executive Nick Field described the company's performance as "extremely encouraging".
"Our continued focus on baking great biscuits, developing our capabilities and bringing exciting new products to market, ensure that we are well placed to identify and capitalise on future growth opportunities with both our retail and foodservice partners," added Field.
Product development during the year included the expansion of the Mars branded biscuit range, including new-to-market Maltesers biscuits and becoming the sole distributer of Paterson Arran and related private label products.
The sales increase drove a 35% rise in EBITDA from £17.6m to £23.6m and moved back into operating profit of £3.9m from an operating loss of £712k in 2019.
However, £5.5m of finance costs saw it post a pre-tax loss of £2m from £6.7m in its previous year.
Ferrero's acquisition of Burton's Biscuits from Ontario Teachers' Pension Plan earlier this year finally brought together the Jammie Dodgers maker with long-time potential partner Fox's Biscuits.
The acquisition added to the Italian confectionery giant's growing biscuits empire following the takeover of Fox's in 2020, Belgian brand Delacre in 2016 and Danish manufacturer Kelsen in 2019.