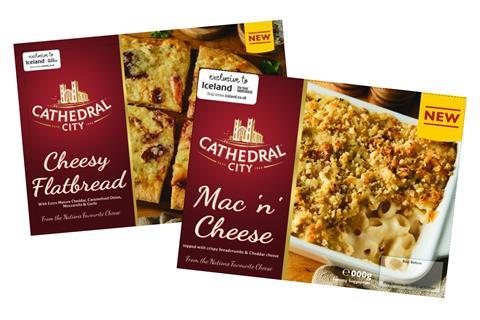 Cathedral City and Iceland have teamed up to launch a cheese-orientated frozen sides and snacks range for Christmas.
The new range, which carries the Cathedral City marque and exclusively went on sale at more than 800 of the frozen retailer's stores last week, initially consists of four products.
These include Extra Mature Cheddar Cheesy Mash (rsp: £2/800g), Cathedral City Mac 'n' Cheese (rsp: £3/450g), Cathedral City Garlic & Cheese Flatbread (rsp: £2/305g) and Cathedral City Cauliflower Cheese (rsp: £3/500g).
Five further products are set to roll out in the next few months, with scope for further NPD and a more permanent range should the existing line-up prove successful, according to Cathedral City's owner Saputo Dairy UK.
Iceland's trading director Andrew Staniland said the range had already garnered a "great response", with the Mac 'n' Cheese SKU already marked as 'sold out' on the retailer's website at time of writing – although it is unclear whether this was due to high demand.
"We're always looking for new and exciting exclusive brands to bring to our customers and we knew partnering with a family-loved brand like Cathedral City would help us deliver the best quality and value products to our shoppers," said Staniland.
"The range has been created as a true collaboration between our food teams and we're proud of the end result. We're looking forward to seeing how our customers react to the new products."
According to a Saputo spokeswoman, the collaboration began in December 2020 and expanded from an initial brief to produce two-to-three Christmas-orientated products.
The news comes after the dairy supplier announced its Cathedral City adult cheese snacking range would undergo a packaging revamp in a bid to improve its recyclability.
Cathedral City with Pickle and Cathedral City Lunch Pack SKUs had moved from an unrecyclable black plastic tray to a "widely recycled" white PET plastic tray, the company said, which would use up to 33% less plastic and contain up to 80% recycled content.
It said white PET was the best option as clear PET would risk UV light exposure, which would result in product degradation and a poor flavour profile.
The latest development forms part of a wider packaging drive at Saputo's flagship cheese brand, which began last year when it partnered with recycling experts TerraCycle to launch a recycling scheme for its flexible film cheese packaging.