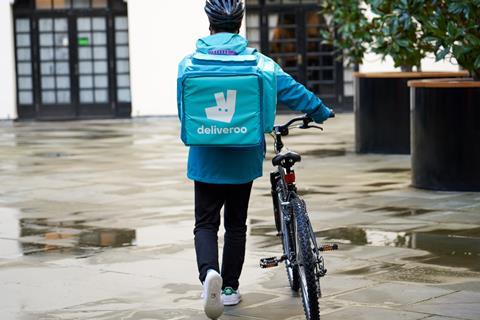 Deliveroo is rebuilding bridges with the City after what was dubbed "the worst IPO in London's history". Its share price has bounced back to its highest point since its March launch and sales growth beat expectations in the first half of the year.
The shares were heavily backed on Monday after it emerged German rival Delivery Hero had built a 5.1% stake in Deliveroo, spurring speculation of a potential takeover. Delivery Hero CEO Niklas Östberg said the business began buying shares in Deliveroo in April as he felt the company was "undervalued", which prompted Deliveroo shares to jump as much as 10% before settling to end the day up 4.5% higher at 339.8p – its highest level since its £7.6bn IPO in March.
Further good news came on Wednesday as it announced an 82% jump in first-half revenues to £922.5m, as gross transaction values more than doubled to £3.4bn despite the reopening of hospitality venues.
GTV in the UK and Ireland rose 110% in the half, while international growth was slightly slower at 95% as reopening from lockdowns happened at different times around the world. The strong first half led Deliveroo to guide to full-year GTV growth of 50-60%, higher than previous forecasts of 30-40%.
However, Deliveroo shares fell back 6.1% to 341p after their surge earlier in the week on the warning sales growth would moderate in the second half. GTV growth had been as high as 142% in the first quarter and had already moderated to 87% by the second quarter.
Furthermore, concerns persist over its bottom line after the delivery company warned gross margins would be in the lower half of the previously indicated range, while it posted a pre-tax loss of £104.8m amid continued investment, albeit an improvement on £128.4m a year ago.
"Deliveroo critics will continue to point to issues with the way it treats its riders and the fact it is still a long way from making a profit, despite its bumper trading," AJ Bell commented. "The need for scale, fierce competition and significant costs associated with the takeaway sector means further consolidation could be on the cards."
It was a similar story at German meal kit maker HelloFresh this week, as it warned full-year earnings would be lower than current expectations due to the continued funding of its expansion, despite strong top-line growth.
In the second quarter of 2021, HelloFresh's revenue reached a quarterly high of €1.56bn, up 66.5% year on year in constant currency, while adjusted EBITDA was up 2.7% to €157.8m
However, it said it would accelerate the ramp-up of its production capacity, which would mean "higher than initially anticipated fulfilment expenses in 2021" and result in 2021 EBITDA margin coming down to 8.25%-10.25% compared to previous guidance of between 10% and 12%.
HelloFresh shares fell 2.5% to €76.10 when the margin downgrade was pre-released last Friday, but were back up 9.2% to €83.88 on Tuesday after the strong growth figures.
Deutsche Bank analysts said the performance should be seen in context: "Given that we expected initially that Q2 could be a flat quarter for customer additions after the 2m new customers added in Q1, this is a very good performance."