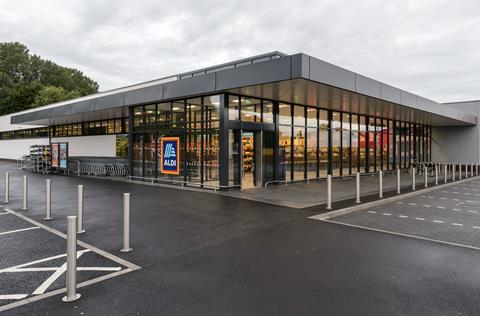 Top story
Aldi has revealed plans to invest £1.3bn over the next two years in an attempt to grab a bigger share of the UK grocery market following sales hitting record levels in 2020.
The discounter said it expected to create more than 2,000 jobs next year, adding to the 7,000 permanent roles already created over the past two years.
Aldi posted a 10.2% increase in UK and Ireland revenues to a record £13.5bn in the year ended 31 December 2020 as the pandemic boosted the figures of all the country's supermarkets.
However, operating profits slipped 1.2% to £287.7m, while pre-tax profits were down 2.5% to £264.8m as Aldi dealt with the higher costs associated with the Covid crisis.
The discounter said it had put "people before profits" and focused on feeding the nation throughout the pandemic, with £238m invested in price reductions during the year. Aldi also flagged that it had repaid business rates relief to the government, in line with its grocery rivals.
CEO Giles Hurley added: "Whilst the cost of responding to the pandemic dampened profits, our decision to return business rate relief was the right thing to do."
Customer numbers increased 1% to 17.8 million last year, with more than 60% of households shopping with the retailer. Aldi said data from Kantar showed it was attracting more new shoppers through its doors than any other supermarket, with a UK market share of 8.1%.
As part of its forward investment plans, Aldi added it would continue to grow its retail estate with 100 new stores across the UK over the next two years, as well as expanding its logistics infrastructure, including a new 1.3 million sq ft site in Leicestershire.
Further investment is being made into Aldi's click & collect service and technology initiatives to support further growth.
This includes trialling a new checkout-free concept store in Greenwich, London.
Hurley said: "Whilst 2020 was an extremely challenging year, our 41,000 colleagues stepped up when it mattered most – their dedication to the communities they serve has been nothing short of remarkable. Despite some of the most difficult conditions our sector has ever seen, our people underlined the strength, success and spirit of our business.
"As well as delivering record sales, we continued to invest for growth, deploying over £600m in stores and distribution centres across the UK. This helped to create thousands of much-needed jobs and support for British farmers and manufacturers.
"We're continuing to gain even more customers – with over 60% of households shopping with Aldi in the last year. By redefining the discount supermarket in the UK, creating more places and more ways to shop with us, we are excited to provide millions of new customers with access to Aldi's award-winning quality and unbeatable value."
Morning update
MusicMagpie, which specialises in refurbished consumer technology, formally announced the launch of a sustainability partnership with Asda this morning.
The partnership will create "a circular ecosystem" in an attempt to prevent thousands of tonnes of consumer technology and media products ending up as waste.
MusicMagpie's SMARTDrop kiosks will be rolled out to nearly 300 Asda stores in 2022, following a successful trial involving 15 kiosks across the Asda estate since November 2020.
So far, approximately 3,000 smartphones have been traded in through MusicMagpie's kiosks.
In addition, the agreement means Asda customers will now be able to buy and sell refurbished consumer technology products (such as mobile phones and tablets) as well as pre-owned entertainment products with MusicMagpie through the Asda website and mobile app.
Asda already sells musicMagpie's pre-owned DVDs and CDs in its stores. After launching in August 2020, the offering was rolled out from five to more than 200 Asda stores across the country.
Matt Harrison, senior director of partnerships at Asda, said: "Our exclusive partnership with MusicMagpie has been developed with the long-term view in mind and it is fantastic to see this vision achieved through a wider roll out in Asda stores. From the start, the team at MusicMagpie have shared our philosophy of testing and learning through trials in our stores, with the ability to quickly understand what works and scale.
"As we continue to deliver on our partnership strategy and develop our partner 'ecosystem', we hope to create more opportunities to offer customers access to the products and services they want in more convenient locations."
Kerry Group has completed the sale – announced in June – of its meats and ready meals business to Pilgrim's Pride for €819m.
CEO Edmond Scanlon said: "Today marks a very significant milestone in Kerry Group's evolution and I would like to thank all of the 4,500 employees who transition to Pilgrim's today for their contribution to Kerry over the years and I wish them the very best in the future."
Real Good Food reaffirmed its plans to delist shares from the AIM market, with shareholders to vote on the proposal at the upcoming annual general meeting on 20 October.
The company is proposing the move to save costs, management time and the legal and regulatory "burden" associated with maintaining its admission to the London Stock Exchange.
Executive chairman Mike Holt said; "The Board has now concluded and believes that seeking the Cancellation is in the best interests of the Company and its Shareholders as a whole."
The FTSE 100 ignored the ongoing crisis at the petrol pumps and on supermarket shelves to open up 0.4% to 7,080pts this morning.
Early risers in food and drink included WH Smith, up 3% to 1,762.5p, Compass Group, up 2.5% to 1,520p, and Hotel Chocolat, up 2.3% to 400p.
Real Good Food plunged another 37% to just 1.7p after it reaffirmed plans to delist from AIM.
Virgin Wines, McColl's Retail Group and Naked Wines were also among the early losers, down 2% to 198.5p, 1.7% to 18.7p, down 1.4% to 731p.
This week in the City
The markets begin to pick up again this week.
Tomorrow brings first-half results from Irn-Bru maker AG Barr, while Wednesday sees snack and sandwich seller SSP Group release a trading update on its recovery from Covid. The latest BRC-NielsenIQ shop price index is also out on Wednesday.
On Thursday in the US, food ingredients specialist McCormick posts quarterly figures.
JD Wetherspoon reports full-year results on Friday.
In wider retail, the Card Factory interims are out tomorrow, while Wednesday brings first-half results for bellwether Next, with Boohoo interims on Thursday.